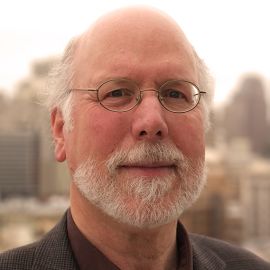 Stephen M. Kosslyn is currently Dean of the Minerva Schools at KGI (the Keck Graduate Institute). He perviously served as Director of The Center for Advanced Study in the Behavioral Sciences (CASBS) at Stanford University and Dean of Social Science and John Lindsley Professor of Psychology at Harvard University; he was also Associate Psychologist in the Department of Neurology at the Massachusetts General Hospital.
He has focused on the study of the brain and played a role in founding the field of Cognitive Neuroscience. His research has focused primarily on the nature of visual mental imagery, visual perception, visual communication and the science of learning. Professor Kosslyn has authored or coauthored 13 books and over 300 papers on these topics.
Professor Kosslyn has received the American Psychological Association's Boyd R. McCandless Young Scientist Award, the National Academy of Sciences Initiatives in Research Award, the Cattell Award, a Guggenheim Fellowship, the J-L. Signoret Prize (France), three honorary Doctorates, and election to Academia Rodinensis pro Remediatione (Switzerland), the Society of Experimental Psychologists, and the American Academy of Arts and Sciences.
He received a B.A. from UCLA and a Ph.D. from Stanford University, both in psychology. His original graduate training was in Cognitive Science, which focused on the intersection of cognitive psychology and Artificial Intelligence.
Videos
---
Speech Topics
---
The Science of Learning
How do people learn effectively? Science has some answers!
Related Speakers View all
---
Barry Bloom

Professor of Public Health, Harvard University

Professor Edmund Phelps

Director, Center on Capitalism and Society, Columbia...

Mr. Douglas W. Jamison

Chairman, CEO and Managing Director, Harris & Harris...

Dr. Solomon Assefa

Research Scientist, Thomas J. Watson Research Center...

Dr. Eric Maskin

Professor of Economics at Harvard University & Nobel...

Mary Brabeck

Professor of Applied Psychology and Dean Emerita of ...

Scott Halford

Engaging Presenter on Behavioral Science, Emotional ...

Jon Bergmann

Pioneer of the Flipped Class Movement & Bestselling ...

Ms. Susan Polgar

Executive Director, Susan Polgar Institute for Chess...

Mr. Juan-Ignacio Vidarte

Director General, Guggenheim Museum Bilbao

Mr. Edmond Alphandéry

Chairman, Euro 50 Group

Dr. Allan Goodman

President of Institute of International Education

Eldar Shafir

Professor Behavioral Science and Public Policy & Pro...

Stephen Wolfram

Founder & CEO of Wolfram Research, Inc. & Author of ...

Shawn Achor

Harvard Professor, Researcher & Positive Psychology ...

Chris Hughes

Co-founder, Facebook and Editor-in-Chief and Publish...

Richard Florida

Leading Urbanist, Economist & Author of "The Rise of...

Ian Bremmer

Political Scientist, Author, Entrepreneur, Lecturer

Matthew Bogdanos

US Marine Officer & Author of Thieves of Baghdad

Dan Ariely

Behavioral Economist; Professor at Duke University; ...
More like Dr.