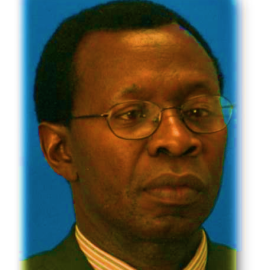 Dr. Taranza Ganziro
Independent Scholar; International Business and Economics Doctorate Holder; Researcher; Author
Independent Scholar. International Business and Economics Doctorate Holder from Lubin School of Business at Pace University, Manhattan, New York City. Area of Research: African Markets and the Paradox of the U.S. Dollar as a Global Reserve Currency.
Co-author with Dr. Robert Vambery – Professor of Marketing and International Business at Pace University, NY – of The Exorbitant Burden: The Impact of the U.S. Dollar's Reserve and Global Currency Status on the U.S. Twin-Deficits – Published by Emerald Group Publishing –UK – December 2015.
Expert in structuring, starting up and managing businesses. Currently, he is the Founder and President of African Markets Institute. Co-Founder of Printer Set, Ltd – a printing and publishing company – back in 1984. Increased its net worth from scratch to more than 5 million US dollars and built a 5-storey building for its headquarters within this short period.
Co-founded Transcontinental, SA in 1985 – a major International Clearing and Forwarding Company with offices in Düsseldorf, Antwerp, Dar-es-Salaam, Mombasa Nairobi, Kampala and Kigali. Transcontinental became a national competitor in Air and Land transportation in East Africa and the Great Lakes Region.
Structured the project of Bank of Finance and Commerce in Rwanda in 1986. Successfully negotiated Citigroup as the Lead-Correspondent Bank for the project and Citigroup accepted to send three of its retirees to help jumpstart the Bank. Syndicated One million US dollars for its startup. For political reasons, the banking license was denied by the National Bank of Rwanda.
One of pioneers of the Association des Parents pour l' Education – a Rural Private Secondary School in Rwanda: structured and secured the initial funding from the US Embassy in Rwanda back in 1986. It is one of the major boarding schools in the country and highly ranked in Agriculture Science.
Taught the Principles of Financial Accounting at Virginia International University in Fairfax, Virginia.Good network internationally and traveled extensively in Europe, India and Africa. He speaks fluently English and French and 3 African Languages.
Speech Topics
---
Speech Topics
US Dollar Reserve and Global Currency Status, US Global Geopolitics, African Markets (Business and Investment Opportunities).
Related Speakers View all
---
Marla Blow

Senior Vice President of Mastercard Center for Inclu...

Jane Fraser

CEO of Citigroup Latin America

Andrew Schrage

Andrew Schrage, Money Crashers Personal Finance

Kristina Salen

Former CFO at Etsy; CFO at Moda Operandi; Fashion In...

Beth Mooney

CEO & Chairman of KeyCorp

Farnoosh Torabi

Personal Finance Expert, Money Strategist, Author, S...

Daniel Altman

Sports Analytics & Strategy Expert

Jon Corzine

Former Governor of New Jersey; Former CEO of Goldman...

Matthew Bishop

Managing director, Rockefeller Foundation and Former...

Marvin Zonis

Political Economist & Consultant

Muhammad Yunus

Nobel Peace Prize Laureate & Founder of Grameen Bank...

Joseph Stiglitz

American Economist, Professor at Columbia Universit...

Ben Stein

Political Economist, Commentator, Author & Actor

David M. Rubenstein

Co-Founder & Co-CEO of The Carlyle Group

Mitt Romney

Former Governor of Massachusetts, 2012 Republican Pr...

Jeremy Rifkin

Leading Global Technologist, Futurist, Authority on ...

Arthur Levitt

Chairman, Securities and Exchange Commission (1993-2...

Todd Buchholz

Former White House Director of Economic Policy & CNB...

Sir Richard Branson

Businessman, Founder of Virgin Group

Shally Venugopal

Acting CEO at Concordian; Founder of Myolo
More like Dr.