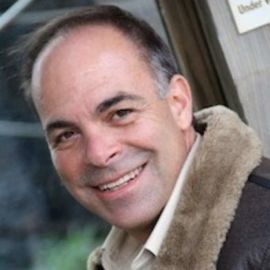 Dr. Vint Virga
Distinguished veterinary practitioner and animal behaviorist, and author of The Soul of All Living Creatures
For over twenty-five years, Dr. Virga has been a distinguished practitioner and leader in veterinary medicine, recognized for his insights into our relationships with animals. His expertise spans the animal kingdom from domestic animals to wild species such as leopards, gibbons, wolves, and giraffes. As the founder and CEO of Veterinary Healing Arts, he has worked extensively with dogs and cats, and currently serves as a consultant to zoos and wild animal parks on the behavioral well-being and management of animals in their care.
A recognized expert on animal behavior and a prominent advocate for nurturing the human-animal bond, Dr. Virga has been invited to speak at hundreds of private corporations, nonprofit foundations, colleges and universities, zoos and wild animal parks, libraries, and conferences; including, Disney's Animal Kingdom, Chicago's Brookfield Zoo, Cornell University, and the American Veterinary Medical Association Annual Convention. He is distinguished for his insights into the parallels between human and animal behavior—making animal behavior meaningful, relevant, and easy to understand.
Outside of clinical practice, he has served as an advisor to leading U.S. corporations, professional associations, and animal welfare organizations; a veterinary liaison to the U.S. Congress; and an expert on legal and legislative issues concerning animal health and welfare.
In his writing, Dr. Virga portrays a unique sensitivity and compassion toward both humans and animals. His book, The Soul of All Living Creatures, is a winner of the 2014 Nautilus Silver Book Award.
Dr. Virga received his Doctorate in Veterinary Medicine from the University of California, Davis and completed his clinical residency in behavioral medicine at Cornell University. He is board certified in veterinary behavior and a Diplomate of the American College of Veterinary Behaviorists. Dr. Virga lives in southern New England with his wife, daughter, and two Norwegian forest cats.
Videos
---