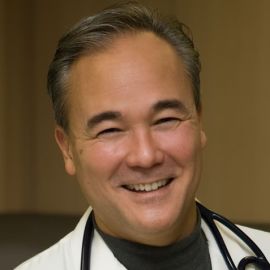 Dr. William Davis
Cardiologist and Health Expert; Author of "Wheat Belly: Lose the Wheat, Lose the Weight, and Find Your Path Back to Health"
Dr. William Davis is responsible for exposing the incredible nutritional blunder being made by "official" health agencies: Eat more "healthy whole grains." The wheat of today is different from the wheat of 1960, thanks to extensive genetics manipulations introduced to increase yield-per-acre. Founder of the international online program for heart health, Track Your Plaque, his experience in thousands of participants uncovered how foods made of wheat actually CAUSED heart disease and heart attack. Eliminating wheat yielded results beyond everyone's expectations: substantial weight loss, correction of cholesterol abnormalities, relief from inflammatory diseases like arthritis, better mood--benefits that led to prevention of heart disease but a lot more benefits in other areas of health.
Dr. Davis now advocates a lifestyle in which all foods made from wheat are removed. He articulates this approach in his book, Wheat Belly: Lose the wheat, lose the weight and find your path back to health, as well as his online program, Track Your Plaque. He lives what he preaches, not having indulged in a wheat-containing bagel, ciabatta or pretzel in many years.
Dr. Davis practices preventive cardiology in Milwaukee, Wisconsin.
Related Speakers View all
---
David Perlmutter

Renowned Neurologist, Expert on Gluten Issues, Brain...

Dr. Ian Smith

Doctor, New York Times Bestselling Author, Medical C...

Ellie Krieger

Chef, Nutritionist, Best-Selling Author & Television...

Laura McLively

Dietitian, Food Writer & Author

Glenn Roberts

Wheat and Rice Farmer; Owner of Anson Mills

J.R. Martinez

Actor, Best-Selling Author, Motivational Speaker, Ad...

Dr. Holly G. Atkinson

Award-Winning Medical Journalist

Dr. Dean Ornish

Physician, Leading Researcher in Healthcare, Founder...

Rita Moreno

Award-Winning Actress, Dancer & Singer; New York Tim...

Zonya Foco

Celebrity Nutritionist, Chef, Author

Anita Vreugdenhil

Pediatric Gastroenterologist Specializing in Childho...

Alexandra Jamieson

Natural Foods Chef, Author, TV Personality & Holisti...

Henna-Maria Uusitupa

Microbiome Researcher

Dr. Steven Gundry

Cardiothoracic Surgeon, Heart Surgeon, Medical Resea...

David Putrino

Director of Rehabilitation Innovation, Icahn School ...

Marlisa Brown

Registered Dietitian; Certified Diabetes Educator Au...

Dr. Will Cole

Leading Functional-Medicine Expert

Dr. John Amaral

Co-Founder of Body Centered Leadership, Chiropractor...

Anne Ornish

Vice President of the Preventive Medicine Research I...

Dr. Nina Shapiro

Director of Pediatric Otolaryngology and a Professor...
More like Dr.