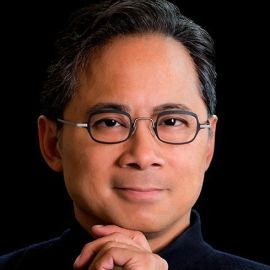 Dr. William Li
Physician, Scientist, Founder of the Angiogenesis Foundation & Author of "Eat to Beat Disease"
William W. Li, MD, is a world-renowned physician, scientist, speaker, and author of "Eat to Beat Disease – The New Science of How Your Body Can Heal Itself." He is best known for leading the Angiogenesis Foundation. His groundbreaking work has impacted more than 70 diseases including cancer, diabetes, blindness, heart disease, and obesity. His TED Talk, "Can We Eat to Starve Cancer?" has garnered more than 11 million views, and he has appeared on Good Morning America, CNN, MSNBC, NPR, Voice of America and in The Atlantic, TIME, and The New York Times. An author of over 100 scientific publications in leading journals such as Science, the New England Journal of Medicine, and The Lancet, Dr. Li has served on the faculties of Harvard Medical School, Tufts University, and Dartmouth Medical School.
Videos
---
Related Speakers View all
---
Antonio Damasio

Director of the Brain Institute

Dan Ariely

Behavioral Economist; Professor at Duke University; ...

Dr. Mehmet Oz

Cardiothoracic Surgeon; Host of "The Dr. Oz Show;" C...

Seth Berkley

CEO of Gavi, the Vaccine Alliance; Medical Doctor Sp...

Mary Roach

TED Speaker & Author Known for "Packing For Mars"

Nathan Myhrvold

Founder of Intellectual Ventures; Former Chief Strat...

Catherine Mohr

Vice President of Strategy at Intuitive Surgical & P...

Daniel Kahneman

Retired Professor of Psychology & Public Affairs at ...

Dan Buettner

National Geographic Writer, Renowned Explorer & Auth...

Toby Cosgrove

Former CEO & President at Cleveland Clinic

Daniel Dennett

Professor of Philosophy at Tufts University

Ray Zahab

Ultra-marathon Runner and Adventurer; Host, "The Pro...

David Byrne

Musician, Artist & Author; Co-founder of the Band "T...

Dr. Holly G. Atkinson

Award-Winning Medical Journalist

Calvin Trillin

Author, Columnist, Humorist & Political Satirist

Dr. Dean Ornish

Physician, Leading Researcher in Healthcare, Founder...

Jamie Oliver

Celebrity Chef, Bestselling Author & TV Personality

Daniel Kraft, M.D.

Physician-Scientist; Founder of Exponential Medicine...

Alfie Kohn

Author & Speaker on Human Behavior, Education, & Par...

Bonnie Bassler

Bonnie Bassler studies how bacteria can communicate ...
More like Dr.