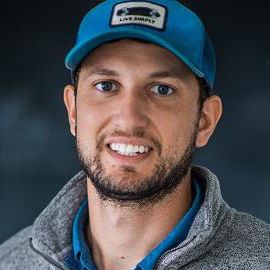 Over beers one evening, brothers-in-law, Drew and Luke discovered that they both had been making and experimenting with their own sauerkraut recipes. They each had their own affinity for the fermented food.
Cravings for his hometown ethnic foods motivated Anderson to make his own sausage, pierogis and sauerkraut after moving away from Cleveland after college. Growing up running his mother's Cleveland-based farmers markets pushed him to use the highest quality ingredients available.
After experimenting with various recipes and fermenting techniques, they realized the sauerkraut they were making was surprisingly better than the usual suspects being offered in the grocery stores. Their fresh, crunchy, unpasteurized, probiotic sauerkraut, like grandma made, just wasn't available on the market. So they decided to create one – right where Drew grew up – at the local farmers markets. It took a year of fine-tuning, with the help of constant feedback from customers, friends and family before they were ready to launch their brand label line of sauerkrauts. What better place to start then right here in Cleveland, where people know good sauerkraut.
Anderson elevates the humble dish of fermented cabbage by thinking beyond sauerkraut's traditional caraway seasoning--and reaching instead for Indian spices, whiskey, dill and beets. It has six varieties, which it sells in 12 states.
Videos
---
Related Speakers View all
---
Jen Martin

Cofounder, Pipsnacks LLC

Joey Grassia

Founder, Kutoa Health

Tatiana Birgisson

Entrepreneur, Founder & Former CEO of MATI Energy

Lizzi Ackerman

Cofounder, Birch Benders Micro-Pancakery

Michael Levine

CEO, Global Food Solutions, Inc.

Amanda Chantal Bacon

Founder & CEO of Moon Juice

Ian Purkayastha

Founder, Regalis Foods

Jonathan Neman

Co-Founder & CEO of Sweetgreen

Katlin Smith

Founder & CEO of Simple Mills

Jourdan Samel & Ari Sherman

Cofounders, Hemp Health, LLC

Andrew Gonzalez

Founder, Night Owl Cookie

Nicolas Jammet

Co-Founder of Sweetgreen

Annie Lawless

Founder, Lawless Beauty, Co-Founder of Suja Juice, C...

Sophie Milrom

Founder at EatPops

Kara Goldin

Founder & CEO of Hint Water

Florence Van Dyke

Co-Founder & CEO of Chia Sisters, the Healthy Energy...

Tal Ronnen

Founder & Chef of Crossroads & Bestselling Author of...

Vanessa Dew

Co-Founder & Chief Sales Officer at Health-Ade Kombucha

Molly Yeh

Creator, My Name is Yeh

Keeley Tillotson & Erika Welsh

Cofounders, Wild Friends Food
More like Drew