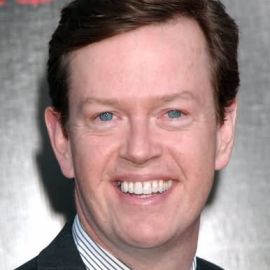 Dylan Baker
Dylan Baker is an American actor, known for playing supporting roles in both major studio and independent films.
Baker was born in Syracuse, New York, but was raised in Lynchburg, Virginia. He began his career as a teenager in regional theater productions. He attended Holy Cross Regional Catholic School and then went on to attend Darlington School and finally graduated from the Georgetown Preparatory School in 1976.
He attended the College of William and Mary in Virginia and later graduated from Southern Methodist University in 1980. Baker then received a Masters in Fine Arts from the Yale School of Drama, where he studied alongside Chris Noth and Patricia Clarkson.
Baker's Broadway theatre credits include Eastern Standard, La Bête, Mauritius, and God of Carnage. He won an Obie Award in 1986 for his performance in the off-Broadway play Not About Heroes.
The next year, he made his motion picture debut in the 1987 film Planes, Trains and Automobiles.
Baker's first recurring TV role was on Steven Bochco's highly acclaimed Murder One. Since then, he has appeared in such TV series as Northern Exposure, Law & Order, Law & Order: Criminal Intent, Without a Trace, CSI: Crime Scene Investigation, The West Wing, and the short-lived sitcom The Pitts. He garnered major critical attention in 1998 with his performance as a tormented pedophile in Todd Solondz's Happiness. He also gained notice for his portrayal of Dr. Curt Connors in Spider-Man 2 and Spider-Man 3. In 2000, he portrayed Secretary of Defense Robert McNamara in Thirteen Days, a historical drama about the Cuban Missile Crisis. He also held a small role in Requiem for a Dream, where he played a doctor who sees Jared Leto's character with a severely infected, rotting arm. In 2002 he portrayed Alexander Rance, an accountant for an Irish crime syndicate, in Road to Perdition. During the short-lived 2007 series Drive, Baker played the role of John Trimble, a father suffering from a terminal illness.
Baker played William Cross in NBC's Kings, in which his wife Becky Ann Baker played Jessie Shepherd, the mother of protagonist David Shepherd. Baker also guest starred in an episode of Monk, playing a theater critic in "Mr. Monk and the Critic".
Baker guest starred in the November 2010 House episode "A Pox on Our House". Baker guest starred in the season four finale of Burn Notice as Raines, an old spy friend of Michael's. He reprised the role in the season five premiere, and also permitted his likeness to be used in the Burn Notice graphic novel "A New Day". In 2010, Baker played Hollis B. Chenery in Secretariat.
Baker played Pashto-speaking CIA agent Jerry Boorman in season 4 of Damages.
In 2012, Baker guest-starred in "Upper West Side Story", an episode of the TV series White Collar; he also has a recurring role as the father of Katharine McPhee's character Karen Cartwright on the NBC TV series Smash. He appeared in the USA Network miniseries Political Animals which aired in summer 2012.
He was nominated for a Primetime Emmy Award for Outstanding Guest Actor in a Drama Series for his performance in The Good Wife.
Baker is a prolific narrator of audiobooks, having narrated a wide range of books, from fiction (The Grapes of Wrath, The Corrections) to biography (Steve Jobs).
In 1990, he married actress Becky Gelke, now known professionally as Becky Ann Baker. They have a daughter, Willa, and reside in New York City.
Videos
---
Related Speakers View all
---
Simon Lovell

English Comedy Magician, Card Shark Actor and Con Man

Kevin Doyle

Kevin Doyle is an English actor. He is known for pla...

Brendan Coyle

British Actor; known for Playing John Bates, the Val...

Jim Carter

English Actor; Currently Stars in Downton Abbey play...

R.J. Kelly

American Actor.

Ciarán Hinds

Irish film, television and stage actor. Portrays Man...

James Wolk

Actor Known for His Role in CBS' "Zoo"

Michael McGrady

Motivational Speaker and Theater, Film & Television ...

Thomas Gibson

Actor, Writer and Director; Best Known for his TV Ro...

Michael Chernus

Actor, mainly known for The Bourne Legacy.

Toby Sebastian

Toby Sebastian is a British musician and actor

Ryan Murphy

Writer, Producer

Tom Lenk

American Stage and Television Actor; Best Known for ...

Michael Lembeck

Michael Lembeck is an American actor, television and...

Anderson Davis

Actor and Model; Starred in the Kraft "Zesty" Dressi...

Michael McDonald

Michael James McDonald is an American stand-up comed...

Oscar Jaenada

Audiences in the U.S. know Jaenada for his roles in ...

Armie Hammer

Actor; Best Known for His Role in "The Social Network"

Will Sasso

Actor, Comedian and Vine Star

Sophie McShera

Sophie McShera is a British actress. She began her t...
More like Dylan