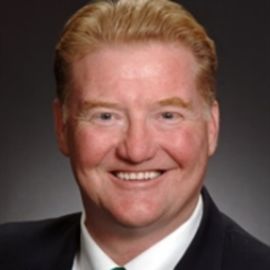 Earl Johnson
Author of "Stairwell to Heaven"
Earl Johnson's background includes a Bachelors degree in Economics from the University of Washington and a 28 year career in the Financial Services industry which has included positions as President and CEO, Senior Vice President, Managing Director, Vice President, and Business Unit Manager with enterprises ranging from startups to large diversified financial services corporations.
In March 2001, Johnson accepted a job in New York and began commuting from Bainbridge Island to his new office on the 51st floor of the World Trade Center. On the morning of September 11, Johnson heard a loud explosion followed by a shaking and swaying of the building so massive that he was lifted off the floor and thrown into a nearby wall. The story of his narrow escape from the World Trade Center, as well as the pain and the courage he witnessed that day are captured in "Stairwell to Heaven -- A 9-11 World Trade Center Survivor's Story of Escape, Heroism ... and Family."
Rooted in the reality of the environment he encountered that morning in September 2001, Earl brings the listener right along with him as he descends the "Stairwell To Heaven." In the process, he provides each audience with a gift, an ability to gain new perspectives and insights that they in turn can successfully apply to the benefit of their own lives and circumstances.
After 9-11, Earl returned to Bainbridge Island and as a direct result of the sacrifice he witnessed by First Responders that morning in September 2001, he ran for, was elected and served three years as a Fire Commissioner for the Bainbridge Island Fire Department. He has additionally served as a Board member of various community based organizations.
Related Speakers View all
---
Katie Pavlich

Conservative Commentator, Author & Journalist

Pete Seat

Former White House Spokesman, Author & Political Com...

Guy Benson

Political Editor of Townhall.com & Fox News Contributor

Tammy Bruce

Political Commentator, Talk Radio Show Host & Author

Buzz Patterson

Author & Conservative Speaker; Former Senior Militar...

Dan Flynn

Author, Columnist, & Senior Editor of "The American ...

Ben Shapiro

Conservative Political Commentator & Radio Talk Show...

Linda Chavez

Conservative Political Commentator, Chairman of the...

Rich Galen

Political Columnist, Republican Strategist & Former ...

Frank Donatelli

Conservative Activist, Chairman of the Reagan Ranch...

Doug Giles

Conservative Columnist, Political Commentator & Auth...

Dana Loesch

Conservative Talk Radio Host, Former NRA Spokesperson

James O'Keefe

Guerilla Journalist, Conservative Political Activist...

Tom Fitton

Conservative Activist & President of Judicial Watch

Jason Mattera

Emmy-Nominated Journalist, Conservative Activist & A...

Nino Saviano

Political Strategist, Campaign Consultant, Founder &...

Dr. Larry Arnn

President of Hillsdale College, Author of "Churchill...

Rachel Campos-Duffy

Parenting Expert, Author, Political Analyst & Fox Ne...

Morton Kondracke

Political Commentator & Columnist

Laura Ingraham

Political Commentator, Television Host & Journalist
More like Earl