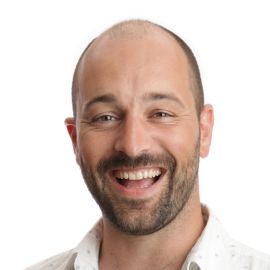 Ed Gillespie is a keynote speaker, writer, communications specialist, serial entrepreneur and futurist. He is the author of "Only Planet – a flight-free adventure around the world" a book about his circumnavigation of the globe without getting on a plane. Gillespie's core talent is to take the complex, interconnected, interdependent nature of the many urgent challenges the world faces, from climate change to disruptive competition, and make common sense of them for non-specialist audiences. He often works at C-suite level to help Boards understand big business's role in 'self-disruption' of their own business models, and creating entrepreneurial 'lifeboats' of lean innovation.
Gillespie is the co-founder of the Global Goals Accelerator, a business program aimed at delivering the Sustainable Development Goals. He is a facilitator with the Forward Institute for responsible leadership, a Director of Greenpeace UK, a Trustee of Energy Revolution and alongside fellow futurist Mark Stevenson is one half of the 'Futurenauts' doing live shows and podcasts on pragmatic optimism. A regular media contributor from the BBC to the Guardian, Gillespie is a sought after speaker, event host, lively compere and trusted Chairperson. Since 2001, he has presented all over the world, from Hong Kong to Bratislava, from Korea to Auckland and by audiences, from the UN and national governments, to multi-national corporations.
Gillespie was also the co-founder of Futerra, a change agency that specializes in business transformation and creative communications and campaigns. For almost eighteen years Futerra has become internationally renowned for its influential and award-winning work on some of the biggest corporate sustainability initiatives. He left the business in 2019 to pursue other opportunities.