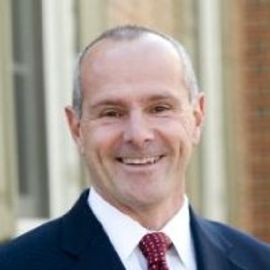 Ed Ruggero
Writer and public speaker, focusing on leadership, featured on The History Channel, Discovery Channel
Author and Speaker Ed Ruggero has helped clients as diverse as the FBI, CitiFinancial, the New York City Police Department, Time, Inc., the CIA, Forbes, SAS Institute, Johnson & Johnson, and Hugo Boss USA develop the kind of leaders that people want to follow.
After graduating from West Point in 1980, Ed was commissioned in the United States Army and served as an infantry officer in a variety of leadership positions around the world. Following graduate school, Ed joined the faculty at West Point, and was deeply involved in the academy's mission to help cadets become "leaders of character" dedicated to service to the nation.
Ed left the service in 1991 to pursue a career as a writer and public speaker. His writings on leadership, his story-telling talents and the success of his first five novels led to his being chosen to co-author the US Army Field Manual Army Leadership, which is used throughout the service.
Ed's non-fiction work includes Duty First: West Point and the Making of American Leaders, a study of leader development at the United States Military Academy, and Combat Jump: The Young Men Who Led the Assault Into Fortress Europe, July 1943. This book, which became a one-hour docu-drama on The History Channel, tells the story of America's first large scale use of paratroopers to lead an invasion. Ed is also the co-author of The Leader's Compass, which gives leaders tools to develop a personal leadership philosophy; and The Corporate Compass: Providing Focus and Alignment to Stay the Course.
Ed's newest book, The First Men In: US Paratroopers and the Fight to Save D-Day, published in 2006 by HarperCollins.
Ed has appeared on The History Channel, the Discovery Channel, CNBC and Fox and has spoken to audiences around the world on leadership, leader development and ethics.
Related Speakers View all
---
Mike Abrashoff

Former Commander of USS Benfold & Author of "It's Yo...

John Foley

Former Lead Solo Pilot for the Blue Angels; Founder ...

Afterburner

US Fighter Pilots & Team-Building Experts

Bill Rancic

"The Apprentice" Winner; Entrepreneur; Star of "Giul...

Garrison Wynn

Comedian & Motivational Business Expert

Rob Waldo Waldman

Decorated Fighter Pilot; Power of Relationships & Tr...

Tim Sanders

Bestselling Author, Technology Pioneer, Expert on Co...

Howard Putnam

Former CEO of Southwest Airlines

Doug Lipp

Former Head of Training at Walt Disney University & ...

Patrick Lencioni

Management Consultant, Founder & President of The Ta...

Frans Johansson

Innovation Expert & Author of "The Medici Effect"

Joseph Grenny

New York Times Bestselling Author; Leading Social Sc...

Adrian Gostick

Founder of The Culture Works & Bestselling Author of...

Keith Ferrazzi

CEO of Ferrazzi Greenlight, Inc. & Bestselling Autho...

Chester Elton

#1 Bestselling Business Author, Organizational Cultu...

Michael Broome

Motivational Speaker on Balanced Life & Values; Stre...

Larry Brudnicki

Captain of the Coast Guard ship that performed two d...

Matt Weinstein

Innovative Teambuilding Expert

JP Pawliw-Fry

Co-Founder of the Institute for Health and Human Pot...

James Autry

Leadership Expert; Former Fortune 500 Business Execu...
More like Ed