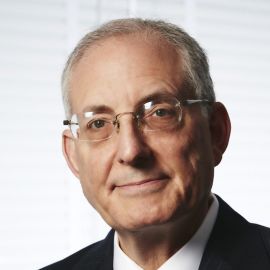 Ed Slott
Nationally Recognized IRA Distribution Expert, Professional Speaker, Television Personality & Best-Selling Author
Ed Slott is a nationally recognized IRA distribution expert, professional speaker, television personality, best-selling author and president of Ed Slott and Company, LLC. He is known for his unparalleled ability to turn advanced tax strategies into understandable, actionable and entertaining advice. He has been named "The Best Source for IRA Advice" by The Wall Street Journal, and USA Today wrote, "It would be tough to find anyone who knows more about IRAs than CPA Slott." Mr. Slott regularly presents on IRA and estate planning strategies at both consumer events and conferences for financial advisors, insurance professionals, CPAs and attorneys. His client list has included leading financial membership organizations, such as FPA, NAPFA, Estate Planning Councils and AICPA, as well as corporate financial firms Fidelity Investments, Nationwide Financial, New York Life, Jackson National, Transamerica, Met Life, Northwestern Mutual, Genworth Financial, LPL Financial, Advisors Excel and others coast-to-coast.
As president and founder of Ed Slott and Company, LLC, the nation's leading source of accurate, timely IRA expertise and analysis to financial advisors, institutions, consumers and media, he provides: 1 Advanced training to financial professionals to become knowledgeable recognized leaders in the retirement marketplace; and 2 Answers to retirement savers' most important questions, continually providing practical, easy-to-understand information on IRA, retirement, tax and financial planning topics. Mr. Slott is an accomplished author of many financial and retirement-focused books, including most recently Ed Slott's Retirement Decisions Guide: 2020 Edition (IRAHelp, 2020) and Fund Your Future: A Tax-Smart Savings Plan in Your 20s and 30s (IRAHelp, 2020). He also hosts the popular website irahelp.com as a resource for financial professionals and consumers, where The Slott Report blog is followed by tens of thousands of readers. As a thought leader in the retirement industry, Slott is often quoted in The New York Times, The Wall Street Journal, Forbes, USA Today, Kiplinger, Investor's Business Daily and numerous additional national magazines and financial publications. He provides a monthly Q&A column to AARP and is also a contributing columnist and media resource to Financial Planning, Financial
Advisor and InvestmentNews magazines. He has appeared on many national television and radio programs, including NBC, ABC, CBS, CNBC, CNN, FOX, FOXBUSINESS, NPR and Bloomberg. Mr. Slott has raised more than $65 million for public television and is one of the top 5 pledge drivers of all time with his educational specials, including his most recent, "Retire Safe & Secure! with Ed Slott" (2020). Mr. Slott is a past Chairman of the New York State Society of CPAs Estate Planning Committee and editor of the IRA planning section of the CPA Journal. He was named a 2020 InvestmentNews Innovator for his significant contribution to helping advisors improve client outcomes and tackle industry challenges, and he is the recipient of the prestigious "Excellence in Estate Planning" and "Outstanding Service" awards presented by The Foundation for Accounting Education. He is a former board member of The Estate Planning Council of New York City and is Accredited Estate Planner (AEP) distinguished. Ultimately, through all of these efforts combined, Mr. Slott has taught millions of Americans (and their financial professionals) how to get the most out of their retirement savings.
Videos
---
Speech Topics
---
Ed Slott is a nationally acclaimed Keynote Speaker with an educational and entertaining message for financial planners, insurance professionals, brokers, banks, mutual fund companies, business groups and consumers.
Ed addresses complex issues with everyday analogies and a style that makes learning enjoyable and engaging! His long-standing expertise in the industry and the field-based knowledge of his IRA technical team are displayed with programs such as:
Ed Slott's IRA Leadership Program (a full-day training customized for your company)
Ed Slott's Exclusive 2-Day IRA Workshop, Instant IRA Success
Ed Slott's Elite IRA Advisor GroupSM
Ed Slott as your Keynote Speaker
1- or 2-hour programs (which can be tailored shorter or longer to meet your group's needs)
Consumer Seminars
Corporate Seminars
Ed and his technical staff regularly speak for brokerage firms, banks and other financial institutions that provide IRA, Roth IRA, pension services, investment services and money management advisory services to their clients.
Ed Slott and Company is also available for in-house training as an IRA and tax consultant for your CPA firm, law firm, financial planning firm or brokerage firm. The AICPA (American Institute of Certified Public Accountants), State CPA Societies, Bar Associations and Certified Financial Planner Associations throughout the country consistently rate our national training sessions as the highest in all cities.
News
---
Ed Slott's Retirement Roadmap! | KPBS
Give at the $150 level during our TV membership campaign and receive the Ed Slott 2016 Combo featuring 18 DVDs; 2 CDs; 2 Books; 2 Guides; 2016 Tax ...
Related Speakers View all
---
Ron Carson

Wealth Advisor, Founder, and CEO, Carson Wealth Mana...

Adam Nash

VP of Product & Growth for Dropbox, Lecturer at Stan...

Farnoosh Torabi

Personal Finance Expert, Money Strategist, Author, S...

Michael Mauboussin

Wall Street Investment Strategist & Head of Global F...

Michael Kitces

Financial Planner, Commentator, Speaker, Publisher o...

Earl G. Graves, Jr.

President & CEO at Black Enterprise

Chris Hogan

#1 National Best-Selling Author; Dynamic Speaker; Fi...

Dan Goldie

Top-Ranked Financial Advisor and Author of "The Inve...

Lewis Schiff

Author of "Business Brilliant" | Founder & Executive...

Richard Florida

Leading Urbanist, Economist & Author of "The Rise of...

Geoff Colvin

Editor & Columnist at Fortune Magazine; Author of "H...

Mike Periu

Entrepreneur & Expert on Finance, Marketing & Manage...

Dr. Bill Conerly

Economist and Future Forecaster; Expert in Business ...

Chip Roame

founder of Tiburon Strategic Advisors,

Sallie Krawcheck

Founder & CEO of Ellevest; Author of "Own It: The Po...

Daniel Altman

Sports Analytics & Strategy Expert

Carmen Wong Ulrich

Personal Finance Expert

Thomas Frey

Leading Visionary & Futurist

Mark DeVolder

Change Management & Employee Engagement Expert

R "Ray" Wang

Founder, Chairman & Principal Analyst at Constellati...
More like Ed