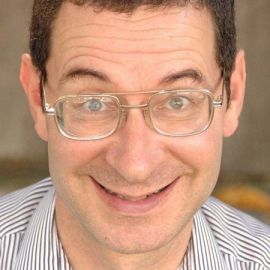 Eddie Deezen
Eddie Deezen is an American character actor, voice actor and comedian, best known for his bit parts as nerd characters in 1970s and 1980s films such as Grease and Grease 2,
He is also known for his roles in Midnight Madness, 1941 and WarGames, as well as for larger and starring roles in a number of independent cult films, including Surf II: The End of the Trilogy, Mob Boss, I Wanna Hold Your Hand, Beverly Hills Vamp and Teenage Exorcist.
As a voice actor, he is easily recognizable for his distinctively high-pitched and nasally voice, most notably used for the characters of Mandark in the Cartoon Network series Dexter's Laboratory, Snipes the Magpie in Rock-A-Doodle, Ned in Kim Possible and Lenny the Know-It-All in The Polar Express.
Deezen was born Edward Harry Dezen in Cumberland, Maryland, the son of Irma and Robert Dezen. A class clown in his youth, Deezen started out with aspirations of becoming a stand-up comedian, moving out to Hollywood within days of graduating high school in order to pursue a career (after adding an extra "e" to his last name so that people would pronounce it correctly).
As a comedian, he performed at least three times at The Comedy Store, though eventually decided to abandon stand-up and focus on acting after bombing his last act and having difficulty memorizing his routine. Deezen attempted stand-up one last time, however, when he appeared on an episode of The Gong Show in the mid-1970s, only to be gonged by singer-songwriter Paul Williams.
Deezen landed his first and perhaps best known role in the film Grease, playing nerdy student Eugene Felsnic, a part he won through a standard audition process. During Grease's post-production period, Deezen won another small role playing a bully in the low-budget independent science fiction movie Laserblast. Despite being his second film, Laserblast marked Deezen's screen debut when it was released in March 1978, three months before the theatrical release of Grease.
Following the massive success of Grease, Deezen found himself being cast in a string of high-profile comedy films playing similarly nerdy characters, including Robert Zemeckis' directorial debut I Wanna Hold Your Hand and Steven Spielberg's 1979 epic comedy 1941. Deezen was in such demand by 1979 that he was constantly having to turn down roles. At least two such notable instances were the characters of Eaglebauer in Rock 'n' Roll High School (which was then given to Clint Howard) and Spaz in Meatballs, both of which Deezen turned down in order to film 1941.
Throughout the early 1980s, Deezen perpetuated his trademark nerd persona in several major films, including WarGames, Zapped! and Disney's Midnight Madness, as well as returning to the role of Eugene Felsnic in Grease 2, one of only seven actors from the original Grease to return for the sequel. In 1984, Deezen was cast in a recurring role on television, playing a goofy superintendent on the first season of Punky Brewster.
In the mid-1980s, Deezen transitioned into voice acting, a change of pace he favored due to better pay and not needing to memorize dialogue.He started out lending his voice to animated feature films, including Sesame Street Presents Follow That Bird and Don Bluth's 1991 Rock-A-Doodle.
According to a 2011 interview, Deezen unsuccessfully auditioned for the role of the title character in Robert Zemeckis's Who Framed Roger Rabbit, losing out to comedian Charles Fleischer.
Deezen eventually found full-time voice work on television in the mid-1990s, playing recurring characters on the animated series Grimmy, Duckman, Kim Possible and What's New, Scooby-Doo?, as well as guest spots on many others, including Johnny Bravo, Recess and Darkwing Duck. His best-known voice-over character, however, is that of Mandark, the arch-nemesis of the eponymous Dexter on Cartoon Network's Dexter's Laboratory, a role he played for the series' entire run from 19962003. Deezen also voiced the character on the TV special Dexter's Laboratory: Ego Trip and the video games Cartoon Network Racing and FusionFall.
In 2004, Deezen returned to the big screen once again under the direction of Robert Zemeckis to supply voice and motion capture performance for the blockbuster holiday film The Polar Express, playing the role of the nerdy "Know-It-All". He reprised this role for the subsequent video game.
Deezen regularly lends his voice to radio and television commercials. In the late 1990s, he provided the voice of Pop (of Snap, Crackle and Pop) in commercials for Rice Krispies cereal, and Nacho, the mascot for Taco Bell's kid's meals commercials, alongside Rob Paulsen as Dog.
In 2011, Deezen was under consideration for succeeding Gilbert Gottfried as the voice of The Aflac Duck, but did not win the role.
Deezen still lives in Hollywood.
Deezen is a huge fan of The Beatles, proclaiming himself to be their "biggest fan". He was interviewed as himself for the unreleased 2005 film Me and Graham: The Soundtrack of Our Lives, a documentary following two filmmakers searching the US and UK for the ultimate Beatles fan.
For over a year his official website featured a difficult Beatles trivia quiz - devised by Deezen himself - with a $100 prize for anyone who could answer all the questions correctly. Deezen revealed in a later interview that nobody had ever claimed the prize.
Deezen is also a pop culture trivia buff, and since 2011 has been a contributing writer to several trivia websites including mental_floss, TodayIFoundOut.com and Neatorama.com.
While most of Deezen's articles pertain to The Beatles and their members, he also regularly writes about such subjects as baseball, American history and classic comedy acts like The Three Stooges, the Marx Brothers and Martin and Lewis.
Videos
---
News
---
10 Interesting Facts You Probably Didn't Know About Eddie Deezen
O.K., I know you might be asking yourself, "Who the devil is Eddie Deezen?" And if you do happen to know who I am, the question might be, "Who cares?" ;-) Look, I know I usually write these "10 things you may not know about" articles on Frank Sinatra or Elvis or Abraham Lincoln or some such august cultural icon. Well, I'll fill you in, I am an actor who has done several movies, mostly bad, but a few good ones, including "Grease", "The Polar Express", "Wargames", "1941?, and "I Wanna Hold Your Hand". Today besides writing "interesting fact" style articles in my free time, I also still do a lot of voice acting work among other things. Many often think I was in the "Revenge of the Nerds" film series, but in fact I was not...
Related Speakers View all
---
Simon Helberg

Actor & Comedian; Best Known for Role of Howard Wolo...

Justin Roiland

Actor, Writer, Producer & Comedian; Known for "Rick ...

Adam Ray

Actor, Comedian and TV Personality; Known for "Spy" ...

Steve Bannos

Actor; Known for "Bridesmaids" and "Spy"

Rebecca Kohler

Comedian and Actress, Known For Just For Laughs

Dan Harmon

Creator & Executive Producer for the NBC Television ...

Jonah Ray

American Actor, Comedian and Writer

Aubrey Plaza

Actress, Comedian & Producer; Best Known for NBC's "...

Doug Benson

Comedian, Actor, Writer, and Creator and Star of "Su...

Jenny Slate

Actress, Comedian, & Author; Creator of the "Marcel ...

Natasha Leggero

Actress & Stand-Up Comedian

Kristen Schaal

Actress, Comedian and Writer

Robert Wuhl

Actor, Comedian & Writer; Best Known for "Arli$$"

Marlon Wayans

Actor, Director & Comedian; Known for "Scary Movie" ...

Martin Short

Iconic Comedian, Actor & Writer

Tim Meadows

Actor & Comedian; Known for "Saturday Night Live"

Dustin Diamond

Actor & Comedian, Known for his role as Screech on "...

Emmy Blotnick

Stand-Up Comedian & Writer

Sierra Katow

Comedian and Writer

Adam Yenser

Comedian & Emmy Award-Winning Writer for The Ellen D...
More like Eddie