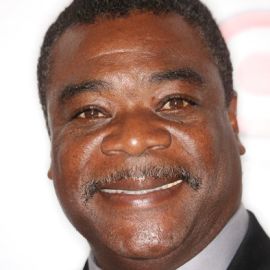 Eddie Murray
Eddie Clarence Murray is a former Major League Baseball first baseman who was known as one of the most reliable and productive hitters of his era, earning the nickname "Steady Eddie". Murray is regarded as one of the best switch hitters ever to play the g
Murray attended Locke High School in Los Angeles, California, where he batted .500 as a senior and was a teammate of Ozzie Smith.
Eddie Murray was selected by the Baltimore Orioles in the 3rd round of the 1973 amateur draft and had several successful seasons in the minor leagues. He debuted at the major league level on April 7, 1977 and played in 160 games for the Orioles in his first season. He won the American League Rookie of the Year award by batting .283, hitting 27 home runs and contributing 88 RBI.
Murray did not suffer the sophomore jinx, instead building on his successes. With the Orioles from 1977 until 1988, Murray averaged 28 home runs and 99 RBI and was a perennial candidate for the MVP award, twice finishing second in the voting. The Orioles also appeared in the post-season twice, in 1979 and 1983, and won the World Series in 1983. Murray's close knit friendship with fellow Oriole Cal Ripken Jr. was highly publicized in Baltimore at the time.
Murray was traded on December 4, 1988 to the Los Angeles Dodgers for Juan Bell, Brian Holton and Ken Howell and had three successful seasons with the Dodgers, knocking in 88, 95 and 96 runs.
Prior to the 1992 season, Murray signed a two-year deal with the New York Mets, for whom he played well despite playing for one of the worst teams in the major leagues. In 1993 he again drove in 100 runs, this time for the final time in his career.
From 1994 to 1997, Murray played for several teams, including the Cleveland Indians (1994-96), the Baltimore Orioles(1996), the Anaheim Angels (1997) and the Los Angeles Dodgers (1997). Although he no longer possessed the presence at the plate he had had in the 1980s, he was a valued and still consistent contributor for these teams. On September 6, 1996, he hit his 500th career home run  fittingly, the home run came as a member of the Orioles, and also came exactly one year to the day that Ripken had broken Lou Gehrig's streak of 2,130 consecutive games played. He retired after the 1997 season with 504 home runs, ranking him second among switch-hitters behind Mickey Mantle's 536.
Videos
---
Related Speakers View all
---
Brady Anderson

Former Outfielder With the Baltimore Orioles, Boston...

Jim Palmer

Former Pitcher for the Baltimore Orioles & National ...

Rickey Henderson

African American professional baseball player

Monte Coleman

Monte Leon Coleman is a former American football lin...

Paul Blair

Paul L. D. Blair is a former outfielder who spent s...

Al Bumbry

Baseball Player; Regarded as "The Fastest Player in ...

Mike Bordick

Retired Professional Baseball Shortstop; Color Analy...

Andre Dawson

Former Outfielder for the Montreal Expos & Chigaco C...

Ken Houston

Former Free Safety for the Houston Oilers of the NFL

Earnest Byner

Earnest Alexander Byner is a former American footbal...

Willie McCovey

Willie Lee McCovey was born January 10, 1938 in Mobi...

Ken Singleton

Singleton was a consistent power hitter who topped 2...

Jamal Lewis

Former NFL Running Back

Jason Heyward

MLB Right Fielder

Gary Sheffield

Sports Agent & Former MLB Outfielder

Kenny Lofton

CEO of Filmpool Inc. & Former MLB Center Fielder

Harold Baines

Former MLB Right Fielder & Designated Hitter

George Foster

MLB Outfielder; Right-Handed Slugger of the Cincinna...

Fergie Jenkins

Ferguson Arthur "Fergie" Jenkins CM is an African-Ca...

Dave Parker

David Gene Parker was born June 9, 1951 in Calhoun, ...
More like Eddie