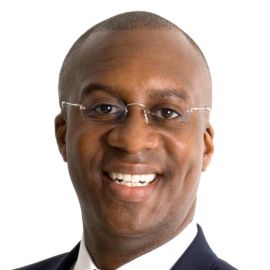 Eddie Turner
Executive & Leadership Coach, International Bestselling Author & Facilitator; Speaks on Leadership Development
Leading organizations who are dedicated to the next generation of leadership and talent development, rely on Eddie Turner, The Leadership Excelerator, to unlock their treasure trove of cross-generational talent.
In today's business landscape, it is harder to find people who are ready for leadership positions, and even harder to find those who are ready for the C-Suite. Turner's Leadership Excelerator Suite of Leadership Programs gives your Talent Development department a proven pathway to leadership success. As an in-demand expert in the field, Turner has created and delivered cross-generational leadership development programs for Fortune 500 companies, government agencies, academic institutions, and non-profit organizations looking to enhance their Human Capital.
Turner is the author of an international bestselling book, "140 Simple Messages to Guide Emerging Leaders," in which he shares lessons he has learned. As a C-Suite advisor and national media commentator, Turner has appeared on dozens of media platforms including CNN LIVE! and has contributed to Forbes.com. Of the more than 37,000 ICF members in 143 countries, Turner was selected as the ICF Coach of the Week on March 23, 2020! Turner is one of Marshall Goldsmith's 100 Coaches and is the host of the Keep Leading!® podcast which earned Apple Podcasts coveted New & Noteworthy designation. If you are searching for that elusive competitive edge, Eddie Turner is ready to accelerate performance and drive impact for your organization!
Videos
---
Speech Topics
---
Designing and Delivering Effective Virtual Classes and Virtual Meetings
Facilitated Collaboration--Effective Techniques to Drive Business Value
Accelerate the Development of Emerging Leaders
There is an urgent need for effective leadership in our institutions of higher learning, government and corporations. Emerging leaders are all around us, but they need help developing into effective leaders. This keynote will explain what it means to be a leader, and outline the process needed to build leadership in oneself and in others, through appropriate development techniques. Attendees will leave with an enhanced ability to define and identify effective leadership, recognize opportunities for emerging leaders to practice leadership, and recommend effective methods for leadership development.
The Emotionally Intelligent Leader
The Emotionally Intelligent Leader is a one-day or two-day workshop that can also be a two-hour breakout session.
The Leadership Excelerator
The Leadership Excelerator is a leadership development program customized to an organizations unique needs after a consultation. It is delivered at the clients location virtually or face-to-face or as a hybrid solution.
Related Speakers View all
---
Geoff Colvin

Editor & Columnist at Fortune Magazine; Author of "H...

Brad D. Smith

Entrepreneur & Former CEO of Intuit

Galen Emanuele

Leadership Expert, Emcee, Philanthropist & Improvisor

Mat Koenig

Best Selling Author, Entreprenuer & Business Strategist

Skip Prichard

Former President & CEO of OCLC and Bestselling Autho...

G. Riley Mills

Co-Founder of Pinnacle Performance Company & Co-Auth...

Martin Lanik

CEO of Pinsight & Bestselling Author of "The Leader ...

Kimberly Powell

Principal at ghSMART & Co-Author of "The CEO Next Door"

Elena Botelho

Partner at ghSMART & Bestselling Co-Author of "The C...

Michael Veltri

Leadership Expert, Nationwide Bestselling Author & T...

Ron Carucci

Leadership Consultant; Founding Partner at Passages ...

Randy Street

Managing Partner of ghSMART, Leadership Expert & Bes...

Emilie Aries

Author, Podcaster, Founder & CEO of Bossed Up

Steve Zaffron

CEO of Vanto Group

Jay Papasan

Best-Selling Author, Vice President & Executive Edit...

Robert Whipple

CEO of Leadergrow Inc. & Author of "The Trust Factor"

Maynard Webb

Silicon Valley Company Builder, Founder of Webb Inve...

Dave Logan, PhD

Author of New York Times #1 Bestseller "Tribal Leade...

Bill Rancic

"The Apprentice" Winner; Entrepreneur; Star of "Giul...

René Carayol

CEO of Inspired Leaders Network & Author of "Spike"
More like Eddie