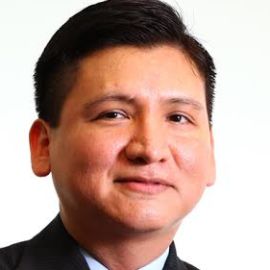 Edgar Perez
Quantum Computing, Artificial Intelligence, Deep Learning and Cybersecurity Expert, Author, "Knightmare on Wall Street" and "The Speed Traders"
Edgar Perez is a great business speaker, a confident communicator and a world class motivator. Global executives have come to appreciate his wide-ranging insights on how they can better position their organizations for success through strong leadership and a comprehensive approach that links business strategy and disruptive technologies including artificial intelligence and deep learning, quantum computing and cyber security. A published author, keynote speaker and business consultant for private equity and hedge funds, he is Council Member at the Gerson Lehrman Group, Guidepoint Global Advisors and Internal Consulting Group.
Mr. Perez is author of The AI Breakthrough, How Artificial Intelligence is Advancing Deep Learning and Revolutionizing Your World (2018), Knightmare on Wall Street, The Rise and Fall of Knight Capital and the Biggest Risk for Financial Markets (2013), and The Speed Traders, An Insider's Look at the New High-Frequency Trading Phenomenon That is Transforming the Investing World, published in English by McGraw-Hill Inc. (2011), 交易快手, published in Mandarin by China Financial Publishing House (2012), and Investasi Super Kilat, published in Bahasa Indonesia by Kompas Gramedia (2012).
Mr. Perez has addressed thousands of top executives around the world through keynote speeches and corporate training programs on quantum computing, artificial intelligence, deep learning, cybersecurity and financial trading. He has presented in Beijing, Boston, Chicago, Hong Kong, Kiev, Kuala Lumpur, Lima, London, Miami, Naples, New York, Santiago, Sao Paulo, Seoul, Shanghai, Singapore, Stockholm, Taipei and Warsaw, among other global capitals. He contributes to The New York Times and China's Sina Finance.
Mr. Perez has been interviewed on CNN's Quest Means Business, CNBC's Squawk on the Street, Worldwide Exchange, Cash Flow, Street Signs and Squawk Box, FOX BUSINESS's Countdown to the Closing Bell and After the Bell, Bloomberg TV's Market Makers, CNN en Español's Dinero, Petersburg – Channel 5, Sina Finance, BNN's Business Day, CCTV China, Bankier.pl, TheStreet.com, Leaderonomics, GPW Media, Channel NewsAsia's Business Tonight and Cents & Sensibilities. In addition, Mr. Perez has been featured on Sohu, News.Sina.com, Caijing, ETF88.com, 360doc, AH Radio, CBNweek.com, Caixin, Futures Daily, Xinhua, CBN Newswire, Chinese Financial News, International Finance News, Finance.QQ.com, Finance.Sina.com, The Korea Times, The Korea Herald, The Star, The Malaysian Insider, BMF 89.9, iMoney Hong Kong, Bloomberg Hedge Fund Brief, The Wall Street Journal, The New York Times, Dallas Morning News, Valor Econômico, FIXGlobal Trading, TODAY Online, Oriental Daily News and Business Times.
Mr. Perez has presented to the Council on Foreign Relations, Vadym Hetman Kyiv National Economic University (Kiev), Quant Investment & HFT Summit APAC (Shanghai), U.S. Securities and Exchange Commission (Washington DC), CFA Singapore, Hong Kong Securities Institute, Courant Institute of Mathematical Sciences at New York University, University of International Business and Economics (Beijing) and Hult International Business School (Shanghai), among other public and private institutions. In addition, Mr. Perez has spoken at a number of global conferences, including Cyber Security World Conference (New York), Inside Market Data (Chicago), Emerging Markets Investments Summit (Warsaw), CME Group's Global Financial Leadership Conference (Naples Beach, FL), Harvard Business School's Venture Capital & Private Equity Conference (Boston), High-Frequency Trading Leaders Forum (New York, Chicago), MIT Sloan Investment Management Conference (Cambridge), Institutional Investor's Global Growth Markets Forum (London), TradeTech Asia (Singapore) and FIXGlobal Face2Face (Seoul).
Mr. Perez was a vice president at Citigroup, a senior consultant at IBM, and a strategy consultant at McKinsey & Co. in New York City. Previously, he managed Operations and Technology for Peruval Finance. Mr. Perez has an undergraduate degree in Systems Engineering from Universidad Nacional de Ingeniería, Lima, Peru (1994), a Master of Administration from Universidad ESAN, Lima, Peru (1997) and a Master of Business Administration from Columbia Business School, New York, with a dual major in Finance and Management (2002). He belongs to the Beta Gamma Sigma honor society. Mr. Perez is an accomplished salsa and hustle dancer and resides in the New York City area with wife Olga, son Edgar Felipe and daughter Svetlana Sofia.
Videos
---
Speech Topics
---
Advice for Global Organizations: Never Let a Crisis Go to Waste
By the middle of April 2020, COVID-19 global case growth had accelerated to more than 2,100,000 infections and 140,000 deaths, A "black swan" event of this magnitude will trigger a radical change in the expectations of business stakeholders. Organizations that reinvent themselves and leverage Artificial Intelligence, IOT and Blockchain to make the most of better insight and foresight will disproportionally stand to succeed. Online commerce could be turbocharged in ways that irreversibly reshape consumer behavior. Furthermore, the requirement of resilience trumps the everlasting pursuit of efficiency; potentially marking the end of supply-chain globalization. Mr. Edgar Perez will inspire CEOs not only to analyze weaknesses but also to discover opportunities to improve the performance of their organizations.
Why your Corporation Needs an Urgent Response to COVID-19
Back in January, Mr. Edgar Perez correctly predicted that the number of new COVID-19 cases in China would reach its peak by late February; then the infection crossed an inflection point when cases outside China exceeded those within the mainland for the first time. The daily movement of people and the sheer number of personal connections between China, South Korea, Iran and Italy, make it unlikely that COVID-19 will be contained. While the situation in China has stabilized with the implementation of extraordinary public-health measures, new cases are rising elsewhere, including the Americas, Europe and Africa. Mr. Perez will inspire CEOs to act immediately to protect their employees and customers, address operational business challenges and risks, and help to mitigate the outbreak in their communities.
Apple, Microsoft, Amazon, Alphabet and… your company?
Apple, Microsoft, Amazon and Alphabet now sit on top of the list of most valuable tech companies in the world, as each is worth more than $1 trillion. Significantly, these four companies have all looked at cloud computing for growth. In turn, the market has rewarded their shareholders richly, as each of these companies' market values have climbed to record levels. What is it about the cloud computing paradigm that makes these companies so valuable? Could your clients apply this philosophy to their own businesses? The answer is yes. You only have to look at Porsche Passport, the most streamlined way to drive a Porsche by including most of the aspects of ownership or leasing into one convenient package and payment plan. Notably, 80% of subscribers never owned or leased a Porsche prior to the Passport program. Mr. Edgar Perez will share key lessons and insights to explore this new business model.
The Artificial Intelligence Breakthroughs that are Changing the Digital World
Artificial intelligence has been referred as the general ability of computers to perform tasks commonly associated with intelligent beings. Through a comprehensive review of the latest artificial intelligence breakthroughs, Mr. Edgar Perez will offer his insights on how these advancements will impact businesses and the human race in general for years to come, and more specifically, how companies can leverage the plethora of available resources to start their digital transformation and implement solutions to problems that only a few years ago belonged to the realm of science fiction. Mr. Perez will reveal why artificial intelligence is the present and the future.
Is the Global Race to Achieve Quantum Supremacy Coming to an End?
Google recently announced that their most advanced quantum computer, a radically new design to manipulate and process information, has achieved "quantum supremacy" for the first time. The technology giant's Sycamore quantum processor was able to perform an incredibly complex task in 200 seconds, a feat that would take the world's fastest supercomputers 10,000 years to complete. The ultimate development and commercialization of this technology will tremendously accelerate difficult tasks across all industries, including financial services, pharmaceuticals, manufacturing and the upcoming space exploration. Are we really there yet? Mr. Edgar Perez will enlighten your audience with the latest head-turning business applications of this revolutionary technology.
Related Speakers View all
---
R "Ray" Wang

Founder, Chairman & Principal Analyst at Constellati...

Amber Case

Cyborg Anthropologist & Founder of Geoloqi, Inc.

Ayesha Khanna

The Leading Expert on Our Intelligent Future

Beena Ammanath

Executive Director of Deloitte AI Institute & Founde...

Clara Durodié

AI Technology Strategist; International Keynote Spea...

John Rossman

Former Amazon Executive, Author & Expert on Digital ...

Alex Salkever

Futurist, Author of "The Driver in the Driverless Ca...

Max Tegmark

Cosmic Explorer & MIT Professor of Physics

Pablos Holman

Technology Futurist, Inventor, World-Renowned Hacker...

Richard Yonck

Lead Futurist & Artificial Intelligence Consultant f...

Tom Koulopoulos

Chairman & Founder, Delphi Group; Business Author, V...

Terry Jones

Digital Disruptor, Author & Venture Capitalist

Mariya Yao

Founder of TOPBOTS & Author of "Applied AI: A Handbo...

Eric O'Neill

Cyber-Security Expert & Former FBI Counter-Terrorism...

Brian Krebs

Leading Cybercrime Journalist & New York Times Bests...

Keren Elazari

Cyber Security Analyst, Author & Senior Researcher a...

Dr. Michio Kaku

World-Renowned Futurist & Theoretical Physicist

Mike Walsh

CEO of Tomorrow; Global Nomad & Futurist; Bestsellin...

Jamie Metzl

Technology and Healthcare Futurist, Sci-Fi Novelist ...

Adam Cheyer

Top Technology and AI speaker, Co-Founder & VP Engi...
More like Edgar