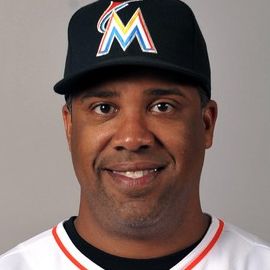 Eduardo Perez
ESPN Analyst; Former MLB Player & Coach
Eduardo Atanasio Pérez Pérez is a Puerto Rican/American former Major League Baseball player and coach and currently an analyst with ESPN, ESPN Deportes and ESPN Latin America as well as a host on SiriusXM's MLB Network Radio.
Pérez played his first big-league game on July 27, 1993 as the host Angels defeated the Oakland A's 15-8, according to Baseball-Reference.com. Starting at third base and batting sixth, he made the most of it — in five at-bats, he had two hits and a walk, three runs batted in and three runs scored. His first at-bat resulted in a first inning walk against Bobby Witt, and an inning later he got his first-ever hit, a double off reliever Joe Boever. In the eighth inning, Pérez hit his first home run, a 3-run shot off Kevin Campbell, scoring teammates Tim Salmon and Chili Davis.
He also hit the first of his three career walk-off home runs in 1993.[4] The Angels trailed the Minnesota Twins 3-2 in the bottom of the ninth inning with Salmon on base and one out. Pérez homered to left field off Twins reliever Rick Aguilera for a 4-3 Angels win.
Pérez's most productive year came in 1997 for the Cincinnati Reds. In 330 plate appearances, he hit .253 with 16 home runs, 52 runs batted in, 18 doubles, 29 walks and five stolen bases. In 2003 for the St. Louis Cardinals, in 289 plate appearances, he hit .285 with 11 home runs, 41 runs batted in, 16 doubles, 29 walks and five stolen bases.
One pitcher that Pérez had the most success against was one of the all-time dominant hurlers, Hall-of-Famer Randy Johnson. On April 19, 2005, starting at first base for Tampa Bay against the New York Yankees in Yankee Stadium, Pérez hit two home runs (in consecutive at-bats) and knocked in three runs against Johnson. Through that game, Perez was 8-for-27 lifetime against Johnson, with four home runs, seven runs batted in and two doubles. In 2006, Pérez's last season, Johnson was ejected and suspended five games for a brushback pitch against Pérez a half-inning after Johnson's teammate, Jorge Posada, had been hit by a pitch.
Pérez's four home runs against Johnson were the most against one pitcher in Pérez's career. He hit three each off Al Leiter and Sterling Hitchcock.
He served as the Houston Astros bench coach under manager Bo Porter during the 2013 season. For 2014 he was named the Astros first base coach, but he resigned that position in early January 2014 to spend more time with family.
Pérez also was known for some big pinch-hit home runs during his career, including three in one season (2002) for the Cardinals and seven for his career. His game-winning pinch-hit home runs included an 11th-inning shot for the Reds off Los Angeles Dodgers pitcher Mark Guthrie in 1997, an eighth-inning two-run shot for the Cardinals off New York Mets pitcher Al Leiter in 2002, and a ninth-inning walk-off solo shot for the Devil Rays against pitcher Alan Embree.
Perez's final career hit came September 23, 2006 as the Mariners fell to the host Chicago White Sox, 11-7. He hit a fifth-inning single off Mark Buehrle, driving in Raúl Ibañez. His final career at-bat was September 29, 2006. At age 37, playing for the Seattle Mariners in a 6-5 loss to the Texas Rangers, he pinch hit for Ben Broussard and struck out against C. J. Wilson.
Pérez joined ESPN's Baseball Tonight 2006 postseason coverage along with current player Vernon Wells, and former players Tino Martinez and Eric Byrnes. Pérez worked as an analyst for Baseball Tonight through 2011 and also served as an analyst for ESPN Deportes' "Béisbol Esta Noche. In 2016, Perez joined SiriusXM's MLB Network Radio hosting The Leadoff Spot with Steve Phillips Wednesdays, Thursdays & Fridays.
Videos
---