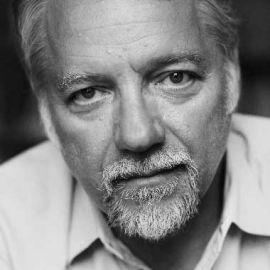 Edward Burtynsky is regarded as one of the world's most accomplished contemporary photographers. His remarkable photographic depictions of global industrial landscapes are included in the collections of over sixty major museums around the world, including the National Gallery of Canada, the Museum of Modern Art and the Guggenheim Museum in New York, the Reina Sofia Museum in Madrid, the Tate Modern in London, and the Los Angeles County Museum of Art in California.
Burtynsky was born in 1955 of Ukrainian heritage in St. Catharines, Ontario. He received his BAA in Photography/ Media Studies from Ryerson University in 1982, and in 1985 founded Toronto Image Works, a darkroom rental facility, custom photo laboratory, digital imaging and new media computer-training centre catering to all levels of Toronto's art community.
Early exposure to the sites and images of the General Motors plant in his hometown helped to formulate the development of his photographic work. His imagery explores the collective impact we as a species are having on the surface of the planet; an inspection of the human systems we've imposed onto natural landscapes.
Exhibitions include Anthropocene (2018) at the Art Gallery of Ontario and the National Gallery of Canada (international touring exhibition); Water (2013) at the New Orleans Museum of Art & Contemporary Art Center, New Orleans, Louisiana (international touring exhibition); Oil (2009) at the Corcoran Gallery of Art in Washington D.C. (five-year international touring show), China (toured 2005 - 2008); Manufactured Landscapes at the National Gallery of Canada (touring from 2003 - 2005); and Breaking Ground produced by the Canadian Museum of Contemporary Photography (touring from 1988 - 1992). Burtynsky's visually compelling works are currently being exhibited in solo and group exhibitions around the globe.
As an active lecturer on photographic art, Burtynsky's speaking engagements have been held at the National Gallery of Canada, Ottawa; the Library of Congress in Washington, D.C.; George Eastman House in Rochester, NY; The Canadian Center for Architecture in Montreal; the Art Gallery of Ontario, the TED conference; and Idea City and Ryerson University in Toronto. His images appear in numerous periodicals each year including Canadian Art, Art in America, The Smithsonian Magazine, Harper's Magazine, Flash Art, Blind Spot, Art Forum, Saturday Night, National Geographic, The New York Times, The New Yorker, The Walrus, FT Weekend and Vogue.
Burtynsky's distinctions include the TED Prize, the Governor General's Awards in Visual and Media Arts, The Outreach award at the Rencontres d'Arles, the Roloff Beny Book award, and the Rogers Best Canadian Film Award. He sits on the board of directors for CONTACT: Toronto's International Photography Festival, and The Ryerson Image Centre. In 2006 he was awarded the title of Officer of the Order of Canada and in 2008 he was awarded the ICP Infinity Award for Art. In 2018 Burtynsky was named Photo London's Master of Photography and the Mosaic Institute's Peace Patron. In March 2019 he was the recipient of the Arts & Letters Award at the Canadian Association of New York's annual Maple Leaf Ball and most recently he was awarded with the 2019 Lucie Award for Achievement in Documentary Photography. He currently holds eight honorary doctorate degrees.
Related Speakers View all
---
Sebastian Copeland

Adventurer, Environmental Activist, Award-Winning Ph...

Ray Kurzweil

Chairman of Kurzweil Technologies; Inventor; Futurist

David Patrick Columbia

Founder, The New York Social Diary

Peter Frank

Principal Consultant; Former Editor-in-Chief, Concie...

Alan Weisman

Journalist / Author

Nader Tehrani

M.I.T. Architecture Professor

Brian Hoffstein

Contributing Writer

Cody Adams

Managing Editor of The Floating University.

Jeffrey Israel

Jeffrey Israel has taught religion and political phi...

David Gray

David Gray is an English singer-songwriter known for...

Spencer Wells

Geneticist, Anthropologist, Author, Entrepreneur, Ad...

Graham Hill

Founder of Life Edited & TreeHugger.com

Moby

Musician, DJ, Photographer

Calvin Trillin

Author, Columnist, Humorist & Political Satirist

Peter Rojas

Co-founder of Gizmodo and of Engadget

Parag Khanna

Leading Geo-Strategist & Author

Dan Glickman

Vice President of the Aspen Institute & Senior Fello...

Sir Richard Branson

Businessman, Founder of Virgin Group

Rob Huebel

Actor, Comedian & Writer; Known for his Role in "Chi...

Neil Giuliano

Gay Rights Activist & President and CEO of Greater P...
More like Edward