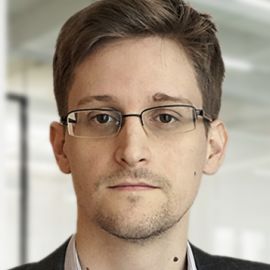 Edward Snowden
Whistleblower Known for Leaking Classified NSA Documents That Sparked A Conversation About Citizens' Rights to Privacy from the Government
In 2013, Edward Snowden leaked thousands of classified American National Security Agency documents, sparking a global conversation about citizens' rights to privacy on the Internet.
Snowden worked for the National Security Agency through subcontractor Booz Allen in the NSA's Oahu office. After only three months, Snowden began collecting top-secret documents regarding NSA domestic surveillance practices, which he found disturbing.
Snowden got leave from his job at the NSA to be treated for his epilepsy and used the time to give revelatory interviews about America's security regime.
After Snowden fled to Hong Kong, China, newspapers began printing the documents that he had leaked to them, many of them detailing invasive spying practices against American citizens.
With the U.S. charging Snowden under the Espionage Act but many groups calling him a hero for revealing the government's alarmingly close watch on citizens, Snowden resides in Russia, with the U.S. government working on extradition.
Books
---
Related Speakers View all
---
Ben Wizner

Legal Advisor to NSA Whistleblower, Edward Snowden; ...

Brian Krebs

Leading Cybercrime Journalist & New York Times Bests...

Sheryl Sandberg

COO of Facebook, Bestselling Author & Founder of Lea...

Bryan Seely

Former U.S. Marine, Cyber Security Expert & Author o...

Dr. Eric Cole

Technology Visionary, Author, Security Expert, Found...

Pablos Holman

Technology Futurist, Inventor, World-Renowned Hacker...

Nicole Yeary

Founder & CEO of Ms.Tech

Mark Zuckerberg

Founder & CEO of Facebook

Steve Wozniak

Co-Founder of Apple Computer, Inc.

John Sileo

America's Top Identity Theft Expert, President & CEO...

Ray Kurzweil

Chairman of Kurzweil Technologies; Inventor; Futurist

James Canton

Futurist, Author & Visionary Business Advisor

Alberto Ajayi Mata

Digital Marketing Expert, Entrepreneur & Ex-NASA Sci...

Jenny Dearborn

Thought-Leader, Best-Selling Author & One of the 50 ...

Walter O'Brien

CEO and Founder, Scorpion Computer Services

Allan Friedman

Director of Cybersecurity Initiatives at National Te...

James Lyne

Cyber Security Expert & Information Security Speaker...

Naveen Jain

Founder & CEO of Viome; Founder of Moon Express

Dave Asprey

Founder of Bulletproof, Father of Biohacking & NYT B...

Randi Zuckerberg

CEO & Founder of Zuckerberg Media, Author
More like Edward