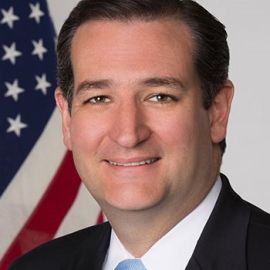 In 2012, Ted Cruz was elected as the 34th U.S. Senator from Texas. A passionate fighter for limited government, economic growth, and the Constitution, Ted won a decisive victory in both the Republican primary and the general election, despite having never before been elected to office.
Propelled by tens of thousands of grassroots activists across Texas, Ted's election has been described by the Washington Post as "the biggest upset of 2012 . . . a true grassroots victory against very long odds."
National Review has described Ted as "a great Reaganite hope," columnist George Will has described him as "as good as it gets," and the National Federation of Independent Business characterized his election as "critical to the small-business owners in [Texas, and], also to protecting free enterprise across America."
Ted's calling to public service is inspired largely by his first-hand observation of the pursuit of freedom and opportunity in America. Ted's mother was born in Delaware to an Irish and Italian working-class family; she became the first in her family to go to college, graduated from Rice University with a degree in mathematics, and became a pioneering computer programmer in the 1950s.
Ted's father was born in Cuba, fought in the revolution, and was imprisoned and tortured. He fled to Texas in 1957, penniless and not speaking a word of English. He washed dishes for 50 cents an hour, paid his way through the University of Texas, and started a small business in the oil and gas industry. Today, Ted's father is a pastor in Dallas.
In the Senate, Ted serves on the Committee on Commerce, Science, and Transportation; the Committee on Armed Services; the Committee on the Judiciary; the Joint Economic Committee; and the Committee on Rules and Administration.
Before being elected, Ted received national acclaim as the Solicitor General of Texas, the State's chief lawyer before the U.S. Supreme Court. Serving under Attorney General Greg Abbott, Ted was the nation's youngest Solicitor General, the longest serving Solicitor General in Texas, and the first Hispanic Solicitor General of Texas.
In private practice in Houston, Ted spent five years as a partner at one of the nation's largest law firms, where he led the firm's U.S. Supreme Court and national Appellate Litigation practice. Ted has authored more than 80 U.S. Supreme Court briefs and argued 43 oral arguments, including nine before the U.S. Supreme Court. During Ted's service as Solicitor General, Texas achieved an unprecedented series of landmark national victories, including successfully defending:
• U.S. sovereignty against the UN and the World Court in Medellin v. Texas; • The Second Amendment right to keep and bear arms; • The constitutionality of the Texas Ten Commandments monument; • The constitutionality of the words "under God" in the Pledge of Allegiance; • The constitutionality of the Texas Sexually Violent Predator Civil Commitment law; and • The Texas congressional redistricting plan.
The National Law Journal has called Ted "a key voice" to whom "the [U.S. Supreme Court] Justices listen." Ted has been named by American Lawyer magazine as one of the 50 Best Litigators under 45 in America, by the National Law Journal as one of the 50 Most Influential Minority Lawyers in America, and by Texas Lawyer as one of the 25 Greatest Texas Lawyers of the Past Quarter Century.
From 2004-09, he taught U.S. Supreme Court Litigation as an Adjunct Professor of Law at the University of Texas School of Law.
Prior to becoming Solicitor General, he served as the Director of the Office of Policy Planning at the Federal Trade Commission, as Associate Deputy Attorney General at the U.S. Department of Justice, and as Domestic Policy Advisor on the 2000 Bush-Cheney campaign.
Ted graduated with honors from Princeton University and with high honors from Harvard Law School. He served as a law clerk to Chief Justice William Rehnquist on the U.S. Supreme Court. He was the first Hispanic ever to clerk for the Chief Justice of the United States.
Ted and his wife Heidi live in his hometown of Houston, Texas, with their two young daughters Caroline and Catherine.
Videos
---
Related Speakers View all
---
John Kasich

Former Governor of Ohio

Donald Trump

45th President of the United States; Businessman & T...

Ben Stein

Political Economist, Commentator, Author & Actor

Mike Huckabee

Politician, Former Governor of Arkansas & Host of TB...

Patrick Buchanan

Former Communications Assistant for the President, C...

Ben Shapiro

Conservative Political Commentator & Radio Talk Show...

Mitt Romney

Former Governor of Massachusetts, 2012 Republican Pr...

Maria Bartiromo

Global Markets Editor, FOX Business Network

Dick Armey

Former House Majority Leader, Economist

Manny Diaz

Former Mayor of Miami

George P. Bush

Politician & Land Commissioner of Texas

Sarah O. Ladislaw

Co-Director and Senior Fellow, Energy and National S...

Marco Rubio

Senior U.S. Senator from Florida

Julián Castro

Former Democratic Candidate in the 2020 Presidential...

Stephen Roach

Economist, Former Chairman, Morgan Stanley Asia & Se...

Grover Norquist

Founder & President of Americans for Tax Reform, Aut...

Ralph Nader

Former Presidential Candidate for the Green Party, C...

Rosario Marin

Former Treasurer of the United States

Frank Luntz

Political Pollster & Communication Expert

Steve Largent

Retired American Football Player & Former Member of ...
More like Ted