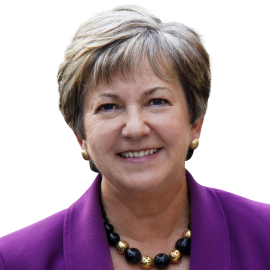 Eileen Kugler
Inspirational visionary building high-achieving inclusive schools, workplaces and communities. Global speaker, award-winning author, consultant
Eileen Gale Kugler passionately champions the unique benefits that diversity brings schools, workplaces, and communities. She challenges audiences to break through society's myth-perceptions about race and culture, empowering them to go beyond celebrations to powerful intercultural learning.
Eileen's award-winning book, "Debunking the Middle-Class Myth: Why diverse schools are good for all kids," is inspiring honest dialogue on what diversity brings to our neighborhoods. Her new book, "Innovative Voices in Education: Engaging Diverse Communities," has been called an "essential resource." Eileen's thought-provoking commentaries on diversity and inclusion in education and business appear in publications from USA Today and The Washington Post to Educational Leadership and The National School Boards Journal.
Eileen's commitment was motivated by the education of her children at one of the most diverse schools in the nation with students from wide-ranging cultures and economic backgrounds, hailing from nearly 90 nations. Blending her professional skill as a communications expert with her volunteer commitment, Eileen worked collaboratively with administrators, faculty, parents, students and community members to rebuild the school's crumbling community support and turn it into a vibrant focal point of its multicultural community, highlighted in media around the world. Eileen was named Education Advocate of the Year for Virginia.
Today, Eileen engages audiences with her powerful message of how diversity and inclusion enrich and enhance each of us -- in our schools, in our workplace, and in our communities -- when we dare to break through our own cocoons of comfort. From the words of an impoverished illiterate grandmother in South Africa to the tale of a top-achieving immigrant student from Pakistan caught in two-worlds, Eileen's inspiring stories surprise, enlighten and challenge audiences with new insights. As one meeting planner said, "There are people who speak well, and people who write well, but few do both as well as Eileen."
Speech Topics
---
Debunking the Myths: Why Diverse Schools are Good for All Kids… With a Positive School Culture
A school with a mix of races, ethnicities, and socioeconomic groups can provide extraordinary enrichment – both academic and social. But it requires a courageous commitment to equity from every stakeholder to identify and overcome the inherent challenges.
Break through the myth-perceptions about diversity that poison public attitudes, recognizing the unique academic and social benefits diversity can bring.
Discover why every stakeholder – from parents to business leaders – has a critical role to play in strengthening diverse schools.
Learn strategies to move beyond assumptions and easy solutions to shape diverse schools that empower every student to thrive.
What Business Leaders Need to Know From Leaders of Diverse Schools
Diversity has been a fact of life in schools in the U.S. and other countries for decades. Research reveals that students in diverse schools think more deeply, collaborate more effectively, and are better problem solvers - but only in an environment that authentically values diverse perspectives.
Understand that the benefits of diversity accrue only if the environment is inclusive and respectful.
Learn lessons from the education realm on how to create inclusive environments that enhance individual talents and skills.
Gain leadership insights from principals in high-achieving diverse schools.
Lessons to Make Your Business Thrive -- from an Illiterate South African Grandmother
Each one of us carries assumptions from our own culture and life experience. These can limit the value we place on "the other," limiting their growth as well as our own.
Recognize the lessons we can learn from unlikely sources if we are open to them.

Learn how we limit others' growth, as well as our own, through hidden assumptions.

Identify ways to create stronger diverse schools and workplaces by opening our eyes to our assumptions and moving beyond them.
How to Engage Diverse Families to Cut the Achievement Gap
Research shows that family engagement is a powerful factor in student success. Yet many families remain disconnected from school. New strategies based on the needs and concerns of today's diverse families help foster that vital connection.
Recognize why a family's distance from school doesn't mean disrespect or lack of interest.

Understand obstacles to parent partnerships based on culture, language, socio-economic group, and past experience.

Develop targeted engagement strategies that value parents' dreams and insights, creating authentic two-way partnerships.
Generational Stereotypes are Killing Your Productivity - And What to Do About It
There are multiple generations in the workforce today, each with its own strengths and perspectives. Understanding individuals in each generation, particularly the new entrants into the workforce, requires digging deeper than simplistic labels.
Understand the basic perspectives, skills, and knowledge of different generations in the workforce.

Explore diversity within the generations.

Develop strategies to end finger-pointing and instead leverage the strengths of each generation.
Related Speakers View all
---
Roberto Alas

Reaching and identifying the potential in every sing...

Charlie Alejandro

Motivational Speaker, Writer, Actress & Radio Talk S...

Monica Strobel

Igniting Positive Culture, Positive Leadership, High...

Dawnna St Louis

Uninhibited Action For Unprecedented Business Growth

Andrea Raquel

Trained Broadcast Journalist / Marketing Pro & Exper...

Roger Crawford

Hall of Fame Athlete; First & Only US Professional T...

Elijah Ezendu

Award-Winning Business Expert & Software Architect +...

Bonnie Hagemann

CEO, Author, Researcher & C-Suite Coach at Executive...

Val McLeod

Inspirational Influencer and Empowerment Speaker and...

Mike Schlappi

Paralympic Medalist

Kristi LeBlanc

Premier Expert on Recruiting-Engaging Purposeful, Pa...

Carey Lohrenz

First Female F-14 Fighter Pilot in the U.S. Navy, T...

Michael Karpovich

Motivational Keynote Speaker and Accredited School S...

Mo Stegall

Global Brand Ambassador, Motivational Speaker, Bests...

Grant D. Fairley

Inspirational Speaker and Teacher, Executive Coach &...

Wes Moore

CEO of Robin Hood Foundation, Best-Selling Author & ...

Allison Massari

Executive Coach, Entrepreneur, Visual Artist & Burn ...

Neal Petersen

History-Making Extreme Adventurer, Award-Winning Aut...

Jim Morris

Known for His Brief MLB Career & Subject of Disney's...

Pegine Echevarria

First Latina Inducted into the Motivational Speakers...
More like Eileen