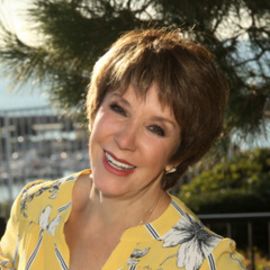 Since founding her consulting firm in 1980, Eileen McDargh has helped organizations and individuals transform the life of their business and the business of their life through conversations that matter and connections that count. She believes that resiliency is a critical life skill and one that requires the energy of connections.
She draws upon practical business know-how, life's experiences and years of consulting to major national and international organizations that have ranged from global pharmaceuticals to the US Armed Forces, from health care associations to religious institutions. Her programs are content rich, interactive, provocative and playful—even downright hilarious.
Executive Excellence magazine continually ranked her as one of the top 50 thought leaders in self-leadership development. Global Gurus International, a British-based provider of resources for leadership, communication and sales training, also named her as one of the World's Top 30 Leadership Professionals following a global survey of 22,000 business professionals.
She authored:
Work for a Living & Still Be Free to Live, the first book to address work/life balance—a topic that placed her as a futurist in this issue.
Her second book, The Resilient Spirit is found from South Africa to California and was written as a response to 9/11.
Talk Ain't Cheap—It's Priceless serves as a leadership guide for numerous organizations.
Gifts from the Mountain-Simple Truths for Life's Complexities won the Benjamin Franklin Gold Award. A training film based on this book earned a Silver Telly, the highest award for commercial productions.
My Get Up and Go Got Up & Went offers succinct insights in an easy-to-read fashion for recharging and renewing human energy.
Your Resiliency GPS: A Guide for Growing through Work Life offers a path for finding your GPS (growth positioning strategies) through recalculating questions.
As a business author and commentator, Eileen has appeared on network news, on radio programs and in business journals and in major metropolitan newspapers.
Eileen is a certified speaking professional (CSP) and her election into the CPAE Speaker Hall of Fame places her among the top 3% of speakers in the United States.
She's also listed as a recommended expert through the Sloan Work and Family Research Network now headquartered at University of Penna.
Videos
---
Speech Topics
---
The Power Of Engagement: Inside Out Leadership
Relighting and Retaining Good People
Work For a Living and Still Be Free to Live
In Her Own Voice: A Retreat for Resilient Women
You've given much of your life to your work, your family, your friends, and your community. You've been busy beyond busy. And now it's your time. In this retreat led by speaker and consultant Eileen McDargh, you will discover the life you are meant to live, be supported and taught skills for leading a life by design and not by default, let your voice finally be heard above the chatter of others, and allow your body and soul to be nurtured by the warmth of nature in a luxurious environment. You will learn how to powerfully and positively shape the direction of your future and explode the myth of balance to replace it with a model that recognizes the challenges of life. From a place of self-leadership, supported by a community of women, you will walk away with skills and insights for the next part of your journey.
Leveraging Your Career to Fit Your Authentic Self
A good career fit is not like squeezing into Spanx. It means thinking, listening, and sensing where, when, and how to go from good work to great work. Once you get there, you will feel great, stop the busywork, and start the work that matters. It begins from the inside out.
Resilience Skills for Pandemic Panic
It is designed to open a conversation about what we can do as individuals and professionals to move from pandemic panic to realistic responses. Fear paralyzes us. Clear thinking moves us. During this 30- minute webinar, I will guide you through the accurate definition of resilience and begin to explore actions to take in cultivating two critical resilience skills: adaptability and agility. And it all begins with YOU—what conversations you are having with yourself and what emotions rise as a result? We'll talk about the power of the present and how to develop intelligent optimism. Action is the antidote for anxiety and you'll be guided on how to control the controllable.
Resilience Skills for Disruptive Times
Fear paralyzes us. Clear thinking moves us. During this 45-minute webinar, I will guide you through the accurate definition of resilience and begin to explore actions to take in cultivating four critical resilience skills: adaptability, agility, laugh-ability and alignment. And it all begins with YOU—what conversations you are having with yourself and what emotions rise as a result? In times like these, we also have the opportunity to be inspired, innovative, imaginative.
Creating a Resilient Workforce: The Care and Feeding of Remote Teams
Alone again—and not so naturally. With employees scattered in various locations—even within the same city— a leader's job becomes a blend of psychologist and coach, teacher and student. Within the reality of both optimism and pessimism which we all deal with, this program helps managers focus on attributes: clarity, collaboration, creativity, comedy and compassion.
Note: this program –depending upon the number of participants—can also offer a forum for leaders to discuss critical issues and share best practices.
Related Speakers View all
---
Amanda Gore

CEO, The Joy Project; Hall of Fame Motivational Spea...

Emory Austin

Authority on Leadership, Change & Customer Service

Christine Cashen

Hall of Fame Motivational Speaker; Author of "The Go...

Mimi Donaldson

Speech Coach & Author of "Negotiating for Dummies" a...

Grant D. Fairley

Inspirational Speaker and Teacher, Executive Coach &...

Carey Lohrenz

First Female F-14 Fighter Pilot in the U.S. Navy, T...

Laura Stack

Productivity & Time Management Expert

Linda Armstrong Kelly

Single Mother of Lance Armstrong; Philanthropist & A...

Kristie Kennedy

Women's Worth & Wellness Expert, TEDx Audacious Lead...

Vince Poscente

Former Olympic Speed Skier, Leadership & Sales Exper...

Karyn Buxman

Author, Neurohumorist & Inductee of the Speaker Hall...

Dianna Booher

Communication Expert & Chief Executive of Booher Res...

Stacy Allison

Businesswoman, Adventurer, Author & Motivational Spe...

Val McLeod

Inspirational Influencer and Empowerment Speaker and...

Andrea Raquel

Trained Broadcast Journalist / Marketing Pro & Exper...

Shawn Achor

Harvard Professor, Researcher & Positive Psychology ...

Loretta LaRoche

Author, Humorist, Stress Expert & TV Personality

Vicki Sanderson

Keynote Speaker, Motivator & Communication Expert

Jean Bailey Robor

Jean Bailey Robor, award-winning author and inspirat...

Dr. Jackie Freiberg

Corporate Culture & Leadership Strategist, Best-Sell...
More like Eileen