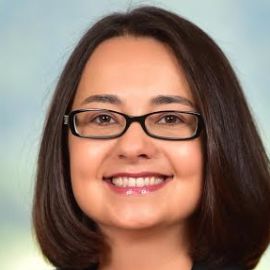 Ekaterina Walter is a globally recognized business and marketing innovator, international speaker, and author of the Wall Street Journal bestseller Think Like Zuck and coauthor of The Power of Visual Storytelling and The Laws of Brand Storytelling.
After pioneering social media and digital marketing strategies for Fortune 500 brands such as Intel and Accenture, she co-founded a start-up that was acquired by Sprinklr, a customer experience management platform, where she served as Global Evangelist. She now helps global organizations build customer-centric digital transformation strategies.
Ekaterina's thought leadership has been featured on CNBC, ABC, NBC, FOX News, Forbes, Fast Company, TechCrunch, CNN, WSJ, Inc., and Huffington Post, among others. She's been consistently recognized by the industry and her peers for her innovative thinking: she was number three on Forbes's World's Top 40 Social Marketing Talent, and Fortune magazine included her on the list of the most impactful business people on social media, alongside Bill Gates, Oprah Winfrey, Arianna Huffington, Warren Buffet, and others.
When Ekaterina is not writing about digital and business innovation, she and her eight-year-old daughter coauthor children's books. The first of a planned series, Amber and Sapphire: The Magic Spell, was published in 2017.
Walter holds a master's degree in International Management from the Thunderbird School of Global Management.
Related Speakers View all
---
Lori Cheek

Architect; Entrepreneur; Founder & CEO of Cheekd

Pam Moore

CEO & Founder Marketing Nutz, Social Business Strate...

Lisa Van Allen

Executive Coach and Spiritual Director to Mission-Dr...

Gillian Muessig

Thought Leader in Global Entrepreneurship

Ian Stirling

Speaker on Business Growth, Franchising and developi...

David Nour

Social Networking Strategist

Josh Linkner

Five-Time Tech Entrepreneur; Hyper-Growth CEO; NY Ti...

Barbara Corcoran

Real Estate Entrepreneur, Angel Investor, Author & C...

Steven Bradley

Runs digital and social media at Alinta Energy

Shelly Kramer

Dynamic, Captivating Speaker Who Delivers Actionable...

Ron Broussard

Author, Founder & CEO of STRETCH YOURSELF

Nicholas de Wolff

Digital Media & Brand Strategy; Economic & Social Tr...

Kristen Hagopian

Personal Finance Author, Popular Columnist, Consumer...

Jay Handler

Speaker, Radio Host & Author of "The 8 M's of Market...

Candace Reese

The CEO Pundit: Empowerment Speaker, Inspirational C...

Ed Rigsbee

Authority on Partnering, Alliances and Business Rela...

Gary Vaynerchuk

Co-Founder & CEO of VaynerMedia

Jay Baer

Founder of Convince & Convert, Author, Expert on Mar...

Sally Hogshead

Marketing, Persuasion & Personal Branding Expert; Au...

Mark C. Thompson

Executive Coach & Author
More like Ekaterina