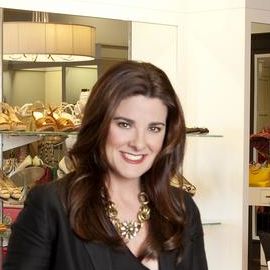 Growing up in Texas in an entrepreneurial family, Elaine Turner developed a unique aesthetic sparked by the effortless laidback luxury of international and Mediterranean travels. After meeting her husband, Jim Turner, the two co-founded Elaine Turner and launched the eponymous lifestyle brand in April 2000. The goal was simple: use the language of design to create elegant yet affordable fashion that makes women feel beautiful inside and out.
However, as the brand has evolved, Elaine Turner, the person has too. By experiencing her own personal hardships, Elaine made it a priority to establish charitable giving as a cornerstone of the brand. As a result, Elaine has begun to spend much of her time in the community speaking to women about topics that are close to her heart.
Elaine has courageously channeled her challenges into a way of connecting more deeply with others, especially women. Elaine's mother, Marlaine, has battled breast cancer for over 30 years and her daughter, Marlie, was born with a genetic condition that presents itself much like autism.
Through these difficulties, Elaine's mission became clear: to use her platform to change lives and make a difference. Her heart beats through connection with other people and she feels strongly that women who come together, share their wounds and expose their cracks will ultimately become stronger together and lift each other up in the process. As Elaine states, "Women who come together, work together and share together ultimately succeed together."
Always a creative storyteller, in August of 2018 Elaine released her first book, Breaking The Glass Slipper: Debunking The Myths That Hold Women Back. Elaine's book debuted as a #1 New Release on Amazon, and in the coming months she looks forward to continuing to bring substance to style. Whether in front of a crowd of 500 or in front of a camera, audiences always respond to the humor, charm and vulnerability she brings to the mic.
Videos
---
Speech Topics
---
Workplace
Work/Life Integration
Lessons from a Business Owner & Entrepreneur
Trending in Popular Culture
Myth: Vulnerability = Weakness (from Elaine's #1 New Release Breaking the Glass Slipper)
Myth: Our Failures Define Us (from Elaine's #1 New Release Breaking the Glass Slipper)
Fashion & Retail Trends
#MeToo Issues/Concerns
Men & Women in the Workplace: How to Effectively Communicate
Women's Issues
The Cinderella Myth (from Elaine's #1 New Release Breaking the Glass Slipper)
Myth: Fashion Is Frivolous (from Elaine's #1 New Release Breaking the Glass Slipper)
The Complexities & Challenges of Being A Woman Today
Women's Wellness & Self-Care
Myth: Other Women Are Our Rivals (from Elaine's #1 New Release Breaking the Glass Slipper)
The Myth of Having It All/Letting Go (from Elaine's #1 New Release Breaking the Glass Slipper)
The Power of Sharing Our Wounds - A Path Toward Healing
Related Speakers View all
---
Kristie Kennedy

Women's Worth & Wellness Expert, TEDx Audacious Lead...

Chidera Eggerue

Millennial Mastermind, Best-Selling Author & Activist

Bianca Juarez Olthoff

Best-Selling Author of "Play With Fire" & "How To Ha...

Liana Rosenman

Co-Founder & Chief Communications Officer of Project...

Jessica Cox

World's First Armless Pilot & First Armless Black-Be...

Abiola Abrams

Author, Self Esteem Coach & Advice Columnist

Heather Monahan

Author of "The Confidence Creator", Entrepreneur & F...

Jessi Roberts

Author of "Backroads Boss Lady", Founder & CEO of Ch...

Gaur Gopal Das

Personal Coach, Monk, Lifestyle & Motivational Strat...

Cara Alwill Leyba

Author, Speaker and Master Life Coach

Jonathan Sandys

Speaking on the life & leadership of my great-grandf...

Emilie Aries

Author, Podcaster, Founder & CEO of Bossed Up

Amber Rae

Inspirational Speaker, Creative Artist & Best-sellin...

Dr. Janet Taylor

Self Care & Wellness Activist, Psychiatrist, Author ...

Danielle LaPorte

Creator of "The Desire Map: A Guide To Creating Goal...

Marti MacGibbon

Humorous Inspirational Speaker, Certified Mental Hea...

Dr. Henry Cloud

Clinical Psychologist & Bestselling Author of "Boun...

Jennifer Grace

Life Coach, Radio Show Host & Author

Jose Ruiz

Bestselling Spiritualist Author, Speaker, and Musician

Dr. Elizabeth Degi Dubois, PhD

Certified Divorce Coach & Trauma Recovery Coach
More like Elaine