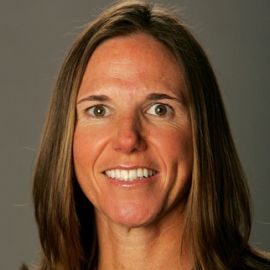 Elaine Youngs
Elaine Youngs (born February 14, 1970 in El Toro, California) is an American beach volleyball player.
As of 2005, Youngs has won 33 professional beach volleyball tournaments in her career. In addition, she won a bronze medal at the 2004 Summer Olympics with teammate Holly McPeak. In 2002, she was named MVP of the AVP.
Youngs is a 1993 graduate of UCLA, where she majored in history.
Youngs currently teams up with Rachel Wacholder
Youngs, nicknamed \"EY,\" currently resides in Durango, Colorado.
Related Speakers View all
---
Jen Lee Reeves

Jen Lee Reeves is the New Media Director at KOMU-TV8...

Misty May-Treanor

Three-Time Beach Volleyball Olympic Gold Medalist

Holly McPeak

Holly McPeak has been playing pro beach volleyball s...

Shirley Robertson

History-Making British Olympian; Two-Time Sailing Go...

Heather Richardson

American Speed Skater, Olympian, World Champion

Kim Rhode

5-Time Olympic Medalist, The World's Best Shotgun Sh...

Olga Korbut

Olga Valentinovna Korbut, also known as the "Sparrow...

Dana Vollmer

5-time Olympic Gold Medalist, Mom, Heart & Health Ad...

Rebecca Soni

American Swimmer; Breaststroke Specialist & Five-Tim...

Kayla Harrison

First American Judo Olympic Gold Medalist; Founder o...

Aly Raisman

Olympic Gymnast, Gold Medalist, Captain of the "Fier...

Heather O'Reilly

Two-Time Olympic Gold Medalist; Midfielder, NWSL Nor...

Laura Wilkinson

American Diver and Olympic Gold Medalist

Kaitlin Sandeno

Kaitlin Shea Sandeno (born March 13, 1983 in Mission...

Noelle Pikus-Pace

American Skeleton Racer; Silver Medalist at the Soch...

Chalene Johnson

Founder of the SmartLife Movement & Bestselling Author

Jen Rustemeyer

Producer and Filmmaker

Katherine Zimmerman

Research Fellow at AEI

Rebecca Lowe

NBC Sports Broadcaster & Host of NBC Sports Group's ...

Nicole Kaeding

Budget Analyst at Cato Institute
More like Elaine