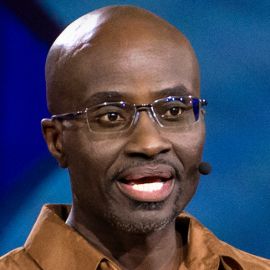 Eldra Jackson III is a spiritual warrior who lives a passion of "saving lives one circle at a time." After living most of his life devoid of emotions and coming face-to-face with the reality of dying behind bars, he came to a point of self-inquiry, seeking answers as to how his life had spiraled into a mass of destruction set upon self and others. From this point, the space was made to save his life.
During his time in prison, Jackson was immersed in a deep culture of toxic masculinity. After joining a gang at 14, Jackson learned how to behave in a hypermasculine way from older gang members. After participating in Inside Circle, a men's group within his prison aiming to help prisoners put in "the work" to look back on the decisions they've made and the mindsets behind the decisions. His participation in Inside Circle helped Jackson turn his life around.
Today, Jackson works to bring his spiritual medicine into the world while simultaneously guiding others to tap into their own internal salve and help identify wounds. Through his intensive awareness work, he is on a mission to show the world what's possible as each person does their own internal examination to begin the path towards emotional and psychic health.
He is the co-executive director of Inside Circle, leading a group of volunteers dedicated to supporting the personal growth of men in prison. They work to reduce recidivism and all forms of violence-physical, emotional and psychological-in prisons and communities. They were featured in "The Work," a Grand Jury Award winning film at the SXSW film festival in 2017.
Videos
---
Related Speakers View all
---
Melanie Young

Breast Cancer Survivor; Health & Wellness Advocate; ...

Jessica Cox

World's First Armless Pilot & First Armless Black-Be...

Amy Van Dyken-Rouen

Six-Time Olympic Gold Medalist Swimmer

Erin Brockovich

Consumer Advocate, Author, TV Host & Environmental A...

Amanda Beard

Olympic Gold Medalist, Co-Founder of Beard Swim Co. ...

Frank Blackman Jr.

Advocate for Teen Mental Health & Suicide Prevention

Raif Derrazi

HIV/AIDS Motivational Speaker

Russell Lehmann

Author, Poet & Mental Health Advocate on the Autism ...

Rebecca Bender

Sex Trafficking Survivor, Advocate & Author

Holly Whitaker

Founder of Hip Sobriety, Podcaster & Author

Amber Galloway-Gallego

World-Renowned ASL Interpreter Specializing in Music

Allison Schmitt

Gold Medalist Olympic Swimmer

Simone Biles

Most Decorated Gymnast Ever & Record Holder for Most...

Noah Galloway

U.S. Army Veteran, Amputee & Finalist on "Dancing Wi...

Kristie Kennedy

Women's Worth & Wellness Expert, TEDx Audacious Lead...

Amanda Lindhout

Executive Director of The Global Enrichment Foundati...

Amanda Russell

Digital Marketing & Branding Strategist, Professor ...

Candy Finnigan

Interventionist on the A&E Series Intervention

Tonisha Pinckney

Empowerment Beyond Victimization - Author of I AM MO...

Charlie Alejandro

Motivational Speaker, Writer, Actress & Radio Talk S...
More like Eldra