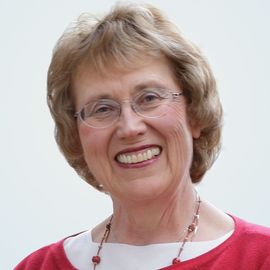 Eleanor Burns
Founder of Quilt in a Day
Over 30 years ago, Eleanor Burns introduced her first "Quilt in a Day" book, beginning a quilt-making revolution. She invited all types of sewers to participate in an age-old tradition using her unique style; a diverse combination of cutting and sewing applications, which replaced scissors and templates with rips and strips, bringing rotary speed to patchwork. She also introduced an incredibly rapid stitching system, applying the method of assembly-line sewing to piecework. Her concise, step-by-step directions were easy to grasp, allowing anyone to be successful at making a quilt. Eleanor Burns gave quilt makers techniques that compacted months into merely a day -- a quilt in a day. Today, as she continues to passionately devote herself to nurturing and motivating thousands of want-to be quilters with needed self-confidence, her name and techniques have become synonymous with quiltmaking.
Since 1978, when Eleanor self-published that first book "Make a Quilt in a Day: Log Cabin Pattern," she has become a prolific author, revered teacher trainer, popular television personality, and celebrated industry role model. She has authored over 80 additional books that sell at a rate of well over 6,500 per week. She has trained thousands of instructors throughout the world who teach her quiltmaking methods. In 1990, Eleanor pioneered the way people view quiltmaking with television. Her "Quilt in a Day" TV series began airing on PBS and is still broadcasting nationwide and abroad, even teaching in Japan. Adding to all of that, she has developed her own "Signature" fabric lines, several special edition sewing machines, and received numerous awards and recognition for her lifetime of achievements.
The story of how Eleanor became so popular mirrors the process of constructing an heirloom quilt. Her life, like a patchwork quilt assembled from pieces collected over time, has blended into an inspiring and beautiful story. She was born in Pennsylvania in 1945 and quite early on began sewing on a small, crank-handle toy sewing machine. Seeking out any available fabric, she discovered her Aunt Edna's chicken feed sacks, allowing her hours of stitching time. By 13, she polished her skills up on her mother's newly purchased green Elna sewing machine. Her childhood brought out an enterprising spirit that was expressed in persistent tenacity. Being dyslexic developed her extraordinary ability to make difficult things simple, and teaching others was a way for her to impart her passion for learning. As a young woman, she received her Bachelor of Science degree in Education from Edinboro State College. Her graduate work at Penn State University culminated her preparation to be a special education teacher, and she began teaching for the Pittsburgh school system. In 1967 she met and married Bill Burns and the process of piecing together her work with family life began.
Even though Quilt in a Day is over 30 years old, it is so very contemporary. From the Internet to her ongoing sales of that first book, Eleanor continues to uniquely inspire thousands of quilt makers worldwide everyday, one person at a time. Eleanor Burns and Quilt in a Day will always be a big part of the patchwork community. All the pieces of her life do work well together, so beautifully, bringing quiltmaking an inspiring presence that was meant to be. With the continued help of her son Orion and her sisters Judy and Patricia, she will keep bringing people into every stitch of her life, encouraging them step-by-step throughout her delightful patchwork path. So as Quilt in a Day celebrates over 30 years of quilting, you could say that Eleanor Burns has quilt making nicely sewn-up.
Throughout her career she has published over 104 'How-to' quilt books, developed an Eleanor Burns Signature Pattern Collection and designed a variety of specialty rulers produced to aid the quilter in successfully completing their quilt.
Related Speakers View all
---
Mary Fons

Quilting Expert, Freelance Author and Popular Blogger

Elsie Larson and Emma Chapman

Elsie & Emma are the creators of the highly popular ...

Ethan Fixell

Comedian, Writer and TV Host

Robert Jeffress

Senior Pastor, Fox News Contributor & Author

Jerry L Anderson

Las Vegas Motivational Speaker | FEATURED ON CNN OVE...

Pete Holmes

Actor & Comedian, Best-Known for "The Pete Holmes Sh...

Trish Magwood

Author, Chef and Food & Lifestyle Consultant; Known ...

Laurence Winmill

Laurence Winmill is probably one of the most dynamic...

Victoria Gotti

Victoria Gotti is a woman of both struggles and succ...

Robin Sax

Prosecutor Against Sex Crimes.

Matt Smith

Eleventh Incarnation of the Doctor in the British TV...

Catherine Herridge

Senior Investigative Correspondent at CBS News; Form...

Michael Ironside

Actor, Voice Actor, Producer, Film Director and Scre...

Chip & Joanna Gaines

Owners of Magnolia Homes & Personalities on HGTV's "...

Egypt Sherrod

Host of HGTV's "Flipping Virgins" & Author of "Keep ...

Alberto Sardinas

Celebrity Spanish Radio Personality, Producer & Author

Jillian "JJ" Simmons

Global Speaker, Author & Media Personality

Redi Tlhabi

Award Winning Author & Journalist

Joan Biskupic

Legal Analyst for CNN; Former Supreme Court Correspo...

Christine McConnell

Baker & Author; Best Known for her Halloween-inspire...
More like Eleanor