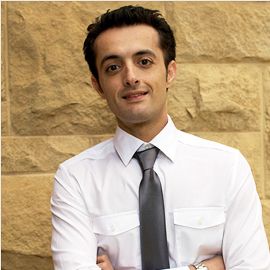 Elias Aboujaoude, MD, MA
Stanford University Psychiatrist & Author
Dr. Aboujaoude is a psychiatrist and author based at the Stanford University School of Medicine, where he is Director of the Impulse Control Disorders Clinic and the Obsessive Compulsive Disorder Clinic. His research interest has focused on obsessive compulsive disorder and behavioral addictions, including problematic Internet use. He has had numerous publications on these topics in peer-reviewed scientific journals and has also written for the lay press. His new book is "Virtually You: The Dangerous Powers of the E-Personality." He is also the author of "Compulsive Acts: A Psychiatrist's Tales of Ritual and Obsession" and co-editor of the academic book "Impulse Control Disorders."
Videos
---
Related Speakers View all
---
David M. Allen, M.D.

Author of "How Dysfunctional Families Spur Mental Di...

Sarah Allen Benton, M.S., LMHC, LPC

Licensed Mental Health Counselor Specializing in Ado...

Amy J. L. Baker, Ph.D

Director of Research at the Vincent J. Fontana Cente...

Dan Peters, Ph.D.

Psychologist, Co-Founder/Executive Director of the ...

Tamar Chansky, Ph.D

Director at Children's and Adult Center for OCD and ...

Adi Jaffe, Ph.D.

Mental Health & Addiction Specialist

Susan Albers, Psy.D.

Best-selling Author; Clinical Psychologist at the Cl...

John Amodeo

Psychotherapist; Author of "The Authentic Heart and ...

Dr. Joseph Shrand

Instructor of Psychiatry at Harvard Medical School &...

Gayathri Ramprasad

Founder & President of ASHA International & Author o...

B Janet Hibbs and Anthony Rostain

Experts on Student Mental Health, Family Relationshi...

Emerson T. Brooking

Author of "LikeWar: The Weaponization of Social Media"

Bella DePaulo, Ph.D.

Social Psychologist & Author of "Singled Out: How Si...

Karen Kleiman, MSW, LCSW

Advocate, Author, International Expert on Postpartum...

Judy Scheel, Ph.D., L.C.S.W.

Eating Disorder Specialist

Marc Lewis, Ph.D.

Neuroscientist and Professor of Developmental Psycho...

Isadora Alman, M.F.T.

Board-certified Sex, Marriage, and Family Therapist,...

Steve Albrecht, D.B.A.

Human Resources, Security, Workplace Violence & Scho...

Karl Albrecht, Ph.D.

Executive Management Consultant, Futurist, Lecturer ...

Edward Abramson Ph.D.

Clinical Psychologist & Expert on Emotional Eating, ...
More like Elias