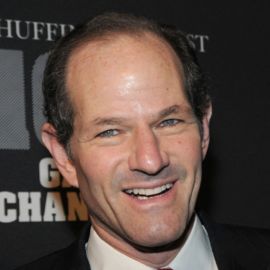 Former New York State Governor and Attorney General, Eliot Spitzer is a hard-charging agent of change. He's been a regular television panelist, pundit, and the host of Viewpoint on Current TV, where he sat at the forefront of the American political scene. He was a blogger for Slate magazine, offering theoretical and historical perspectives on economic issues directed toward today's politicians and executives for "making government work better."
Before making his mark in politics, Spitzer worked as a lawyer in New York City. He worked at several private firms and clerked for Federal District Judge Robert W. Sweet before tackling organized crime and corruption as an Assistant District Attorney in Manhattan. In this position, he successfully prosecuted several senior members of the high-profile Gambino crime family. In 2013, Spitzer released the ebook Protecting Capitalism Case by Case, a first-hand account of his most famous cases as Attorney General.
From 1998 to 2006, Spitzer conquered New York State as Attorney General, earning the nickname the "Sheriff of Wall Street" and setting a new standard for law enforcement in financial fraud, environmental protection, and civil rights. Named TIME's 2002 "Crusader of the Year" and the Financial Times' 2004 "Person of the Year," he successfully ran for Governor of New York in 2007.
Spitzer attended the Horace Mann School before studying at Princeton University's Woodrow Wilson School of Public & International Affairs. Later, he served as Editor of Harvard Law School's Harvard Law Review and worked for famed law professor Alan Dershowitz.
Previously seen on CNN's In the Arena, Spitzer also helps to run the family real estate business and works as an adjunct professor of Political Science at the City University of New York.
His first book, 2011's Government's Place in the Market, analyzes how and when government should step in on marketplace issues. Spitzer's methodical text suggests strategic ways the U.S. government and business world could coexist while initiating change for the global economy and public interest. Booklist said, "This tract returns Spitzer to the original impression he made on the political scene as a scourge of Wall Street."
Videos
---
Books
---
News
---
Spitzer's Long Road to Redemption
HERE is Eliot Spitzer on MSNBC with the host Ed Schultz, railing against fallen Wall Street titans who regain power ("absolutely insane"). There he is on Fox's "Good Day New York," taking swipes at Andrew Cuomo ("he has to answer the hard questions") and Senator Kirsten Gillibrand ("I don't like politicians who vacillate")...
Related Speakers View all
---
Joseph Stiglitz

American Economist, Professor at Columbia Universit...

Ted Kennedy, 1932-2009

Late U.S. Senator (D) Massachusetts

Zac Posen

Fashion Designer

Tom Freston

Principal, Firefly3; Former CEO, Viacom Inc.

Jeffrey Archer

Former UK Member of Parliament; Author

Lionel Tiger

Professor of Anthropology, Rutgers University

Dale Jamieson

Professor, New York University

Cody Adams

Managing Editor of The Floating University.

Jeffrey Israel

Jeffrey Israel has taught religion and political phi...

Daniel Altman

Sports Analytics & Strategy Expert

Robert Greene

American Author; New York Times bestsellers The 48 L...

D. Quinn Mills

Consultant; Professor Emeritus, Harvard Business School

Moby

Musician, DJ, Photographer

Sebastian Copeland

Adventurer, Environmental Activist, Award-Winning Ph...

Calvin Trillin

Author, Columnist, Humorist & Political Satirist

Robert Hormats

Vice Chairman of Kissinger Associates Inc.

Harrison Ford

Actor Known for "Star Wars" & "Indiana Jones" Films;...

Jimmy Carter

Former United States President (1977-1981), Author

Sir Richard Branson

Businessman, Founder of Virgin Group

Charles Best

Founder and CEO, DonorsChoose.org
More like Eliot