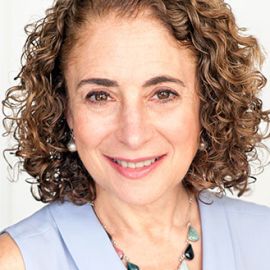 Elisabeth Rosenthal, M.D. is editor-in-chief of Kaiser Health News, an independent non-profit DC-based newsroom focusing on health and health policy.
Rosenthal spent 22 years as a reporter, correspondent and senior writer at The New York Times. The capstone of her journalistic career was an award-winning 2-year-long series about the cost of American healthcare called "Paying Till it Hurts." Dr. Rosenthal's reporting "has changed the way we think about health care," wrote Dr. Andrew Boozary, editor of the Harvard Public Health Review. Paul Raeburn, of the MIT Knight Science Journalism Tracker, called the series "the clearest dissection to date of the health system's pricing ills." He added: "It should galvanize the country."
In her book An American Sickness, Dr. Rosenthal expands on her reporting to take a hard look at the history and current state of our nation's healthcare. At this moment of sweeping political change, Dr. Rosenthal exposes the limitations of our healthcare system by breaking down the monolithic business into its various components—and reminds us what is at stake.
Drawing on her book and work as a journalist, Elisabeth Rosenthal's lectures penetrate right to the heart of our healthcare problem. She has keynoted healthcare conferences for Consumer Reports, the Robert Wood Johnson Foundation, the American College of Physicians and the Mayo Clinic, to name a few. An enlightening speaker, Dr. Rosenthal tackles this difficult topic with remarkable clarity, whether addressing healthcare providers, doctors, or patients.
A frequent contributor to the New York Times' Sunday Review, Dr. Rosenthal has made national appearances on media outlets such as MSNBC Morning Joe, C-Span, This American Life, NPR's Fresh Air, and The Diane Rehm Show among others. Her awards include the Association of Health Care Journalists' 2014 beat reporting prize, the 2014 Victor Cohn Prize from the Council for the Advancement of Science Writing, the 2014 Online News Association's topical reporting prize and the Asia Society's Osborn Elliott prize, as well as multiple citations from the Newswomen's Club of New York.
Born in New York City, Dr. Rosenthal holds an M.D. degree from Harvard Medical School, trained in internal medicine, and worked as an E.R. physician before becoming a full-time journalist. She has been a Poynter Fellow at Yale, a Ferris Visiting Professor at Princeton, and an adjunct professor at Columbia University. Currently, Dr. Rosenthal works as the editor-in-chief of Kaiser Health News, an independent foundation-funded reporting project providing health and health policy news to media partners like NPR, PBS, The New York Times, The Washington Post and USA Today.
Videos
---