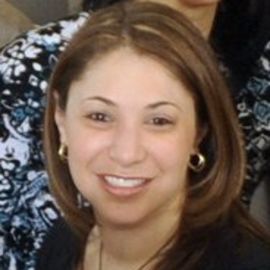 Elise Friedman is a professional genealogist, specializing in Jewish genealogy, genetic genealogy, and technology. She has given lectures and workshops at a variety of venues, from local genealogy and community meetings to international Jewish genealogy conferences. She has researched her own family history for more than 10 years, and has roots in Belarus, Russia, Poland and Ukraine (formerly Galicia).
Ms. Friedman is very active in the field of genetic genealogy, where she volunteers as JewishGen's DNA Projects Coordinator, manages several DNA studies through Family Tree DNA, and co-authored a genetic genealogy case study that was published in the AVOTAYNU and FORUM genealogy journals.
Ms. Friedman is a member of the Association of Professional Genealogists, Genealogical Speakers Guild, International Society of Genetic Genealogy and Jewish Genealogical Society of Palm Beach County. She holds a Bachelor of Science in Computer Engineering from The Pennsylvania State University, and is a former Information Technology professional.
Speech Topics
---
Introduction to Genealogy, Introduction to Jewish Genealogy, Genealogy Online: How to Turn a Name into a Treasure Trove of Family History, Introduction to Genetic Genealogy, Genetic Genealogy Demystified: Reading and Understanding Your Family Tree DNA Results, Custom presentations available upon request.
Related Speakers View all
---
Tracy Lewis

Christian Author, Speaker, and Teacher

Nicole Yeary

Founder & CEO of Ms.Tech

Laura J. Mansfield

Empowering and guiding ordinary women to achieve ext...

Liene Stevens

Author, speaker, and behavioral psychology expert wh...

Brandon Farbstein

At just 17, this internationally-acclaimed advocate ...

Liana Rosenman

Co-Founder & Chief Communications Officer of Project...

Jonathon Colman

Webby Award-Winning Content Strategist, Internet Mar...

Julia Bacha

Award-Winning Documentary Filmmaker, Creative Direct...

Elaine Fogel

Professional Speaker, Marketer, Brand Evangelist, Au...

Colette Carlson

Human Behavior Expert; Hall of Fame Motivational Spe...

Vanessa Ochs

Author of "Inventing Jewish Ritual", Winner of 2007 ...

Felice Cohen

Author of the Award-Winning Book "What Papa Told Me"

Laura Snyder

Professor; Science Historian; Philosopher; Author of...

Gal Gadot

Israeli Actress & Model; Known for "Wonder Woman" & ...

Steve Lovelace

Writer, Graphic Artist and Photographer.

Kanya Balakrishna

Co-Founder & CEO of The Future Project

Rozzi Crane

Singer-Songwriter; Signed to Adam Levine's Label 222...

Lisa Louise Cooke

Producer and host of the Genealogy Gems Podcast www....

Sarah Maizes

Author, Humorist, and Parenting & Lifestyle Expert

Mayim Bialik

Neuroscientist & Actress, Known For "The Big Bang Th...
More like Elise