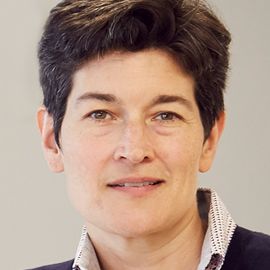 Eliza Byard, PhD, is a strategist, advocate, and leader for educational equity, youth development and LGBTQ equality. Her approach to tackling current challenges is grounded in her training as an historian and experience in news and documentary production. With nearly two decades of experience as a non-profit executive and compelling public speaker, Eliza has brought people from disparate communities and politics together to forge common cause, and secured tens of millions of dollars from diverse individual, corporate, and institutional funders for transformative programs, advocacy, and public education campaigns.
Eliza is currently the Executive Director of GLSEN, an organization recognized worldwide as a pioneering leader in the fight for educational equity and LGBT issues in K-12 schools. Eliza joined the organization as Deputy Executive Director in 2001, and led the growth of GLSEN's public education and advocacy efforts; youth leadership development programs; professional development for educators; research and program evaluation capacity; and in-school programming. She became Executive Director in 2008, succeeding GLSEN's founder. Under her leadership, GLSEN has helped spur a significant decline in anti-LGBT harassment and violence in schools; established a professional norm of support for LGBTQ youth among educators, school administrators, and school staff in the United States; and sparked and sustained an international movement for LGBTQ-inclusive primary and secondary education. GLSEN now partners with NGOs around the world to develop the evidence base to improve LGBTQ youth lives in their own countries, and consults with the UN, the World Bank, and other international institutions regarding the impact of LGBTQ issues on global targets for education and youth health.
Before joining GLSEN, Eliza worked in documentary and current affairs television production for more than a decade, including numerous projects for Bill Moyers' Public Affairs Television. Working on many award-winning productions, Eliza learned to tell stories of the past and present in order to compel action for a better future. A member of Milton Academy's class of 1986, she holds a PhD in United States History from Columbia University, where she was Presidential Fellow of the Faculty and a Whiting Fellow, and a B.A. in History from Yale University. Her areas of expertise include public history, oral history, and LGBT history in the U.S.
Eliza has served on numerous boards and commissions, and is currently a Board member of the Center for Talent Innovation, a Trustee of the America's Promise Alliance, and a member of the Gill Foundation Board. She lives in her native New York City with her wife and their two children.
Videos
---