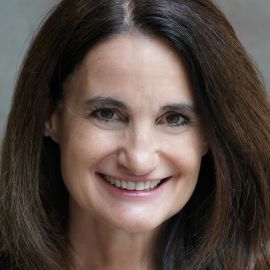 Elizabeth Economy
C.V. Starr Senior Fellow & Director of Asia Studies at the Council on Foreign Relations
Elizabeth Economy is the C.V. Starr senior fellow and director for Asia studies at the Council on Foreign Relations and a distinguished visiting fellow at Stanford University's Hoover Institution. Her most recent book, The Third Revolution: Xi Jinping and the New Chinese State, (Oxford University Press, 2018) was shortlisted for the 2019 Lionel Gelber Prize for the best non-fiction book in English on foreign affairs. She is also the author of the award-winning The River Runs Black: The Environmental Challenge to China's Future (Cornell University Press, 2004; 2nd edition, 2010), and By All Means Necessary: How China's Resource Quest is Changing the World (Oxford University Press, 2014), co-authored with Michael Levi. ). The River Runs Black was named one of the top 50 sustainability books in 2008 by the University of Cambridge, won the 2005 International Convention on Asia Scholars Award for the best social sciences book published on Asia, and was listed as one of the top ten books of 2004 by the Globalist as well as one of the best business books of 2010 by Booz Allen Hamilton's strategy+business magazine. She has published articles in policy and scholarly journals including Foreign Affairs, Foreign Policy, and the Harvard Business Review; and op-eds in the New York Times and Washington Post, among others. In June 2018, she was named one of the "10 Names That Matter on China Policy" by Politico magazine. Economy serves on the board of managers of Swarthmore College and the board of trustees of the Asia Foundation and the National Committee on U.S.-China Relations. She received her BA with Honors from Swarthmore College, her AM from Stanford University, and her PhD from the University of Michigan. In 2008, she received an honorary doctor of laws degree from Vermont Law School.
Related Speakers View all
---
Vikram Mansharamani

Academic Author, Advisor, Global Trend-Watcher & Lec...

Amy Myers Jaffe

Chair of the World Economic Forum (Davos) Global Age...

Joseph Stiglitz

American Economist, Professor at Columbia Universit...

Anil Gupta

Leading Expert on Strategy, Globalization and Emergi...

Peter Diamandis

Founder & Executive Chairman of the XPRIZE Foundatio...

Jeremy Rifkin

Leading Global Technologist, Futurist, Authority on ...

Richard Florida

Leading Urbanist, Economist & Author of "The Rise of...

Ian Bremmer

Political Scientist, Author, Entrepreneur & Lecturer

Jason Schenker

Top-Ranked Economist, Best-Selling Author & Presiden...

Muhammad Yunus

Nobel Peace Prize Laureate & Founder of Grameen Bank...

Jim Carroll

One of the World's Leading Global Futurists, Trends ...

Sallie Krawcheck

Founder & CEO of Ellevest; Author of "Own It: The Po...

John Manzella

World-Recognized Speaker, Author and Nationally Synd...

Ray Kurzweil

Chairman of Kurzweil Technologies, Inventor & Futuri...

Robert Bryce

Energy Expert, Veteran Journalist & Acclaimed Author

Carly Fiorina

Businesswoman, First Woman to Lead a Fortune Top 20 ...

R "Ray" Wang

Founder, Chairman & Principal Analyst at Constellati...

Gary Hamel

Internationally Renowned Expert on Business Strategy...

Bernard Baumohl

Chief Global Economist of The Economic Outlook Group...

Andrew Fastow

Former CFO of Enron; Expert Keynote Speaker on Finan...
More like Elizabeth