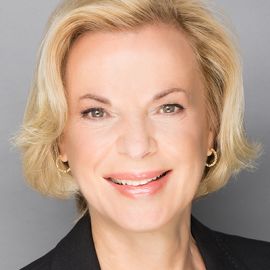 Elizabeth Nabel
First NFL Chief Health & Medical Advisor; President of Brigham and Women's Hospital; Professor of Medicine at Harvard Medical School
Elizabeth Nabel is the President of Brigham and Women's Hospital and a professor at Harvard Medical School, as well as the NFL's Chief of Health. Nabel is an exemplary physician, scientist, and leader. She is a practicing cardiologist, biomedical researcher, and patient advocate. Her leadership hallmarks include greater interdisciplinary and cross-industry collaborations, patient-inclusive care, a globally-reaching vision, and innovation in personalized therapies and translational medicine.
Nabel was raised in St. Paul, Minnesota. Her father was a research scientist. She graduated from St. Olaf College in 1974 and received her Medical Degree from Weill Cornell Medical College in 1981. Nabel became an Assistant Professor of Medicine at Michigan university in 1987 and rose quickly through the ranks, becoming Chief of the Division of Cardiology in 1997. Soon after, she became the Scientific Director of Clinical Research at the National Heart, Lung, and Blood Institute in 1999, becoming Director in 2005. As Director, Nabel established pioneering programs in genomics and stem cells, founded the Global Alliance for Chronic Diseases, and launched the Red Dress Heart Truth campaign.
In 2010, Nabel became the President of Brigham and Women's Health Care. She was appointed Chief Health and Medical Advisor to the National Football League in 2015. Nabel's research focuses on the molecular genetics of cardiovascular diseases. Medicine even penetrates Nabel's family life, as her husband is also a successful physician-scientist and her 3 children have all pursued medical careers.
Videos
---
News
---
Brigham CEO stands out for outside jobs
Dr. Elizabeth Nabel is paid well — $1.3 million in salary alone in 2013 — to run Brigham and Women's Hospital, one of the nation's premier medical centers. She also finds time to hold three other paying positions, which is unusual for a Boston hospital president ...
Nabel NFL's 1st chief medical adviser
NEW YORK -- The NFL has hired Dr. Elizabeth Nabel as its first chief health and medical adviser.
Commissioner Roger Goodell said before the Super Bowl that the league would be hiring someone to oversee its medical policies. Nabel will work directly with Goodell ...