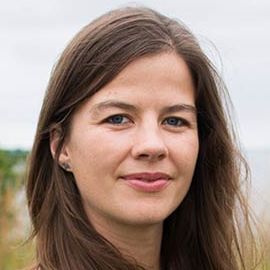 Elizabeth Rush
Author of "Rising: Dispatches from the New American Shore" & Finalist for the Pulitzer Prize
Elizabeth Rush is the author of Rising: Dispatches from the New American Shore, a finalist for the Pulitzer Prize in General Nonfiction, and Still Lifes from a Vanishing City: Essays and Photographs from Yangon, Myanmar. Her work explores how humans adapt to changes enacted upon them by forces seemingly beyond their control, from ecological transformation to political revolution. Her writing has appeared or is forthcoming in the New York Times, National Geographic, the Guardian, the Atlantic, Harpers, Guernica, Granta, Orion, Creative Nonfiction, The Washington Post, Le Monde Diplomatique and the New Republic, among others.
In 2019, was the National Science Foundation's Antarctic Artist and Writer. As such, she was extended a singular invitation to join scientists from the United States and Great Britain aboard the R/V Nathaniel B. Palmer for a 50+ day scientific "cruise" to the Thwaites Glacier, one of the most remote regions in the world. Nicknamed the "Doomsday Glacier" by the news media, Thwaites' deterioration destabilizes the West Antarctic Ice Sheet, which is one of the largest potential contributors to sea level rise. Her mission to Antarctica was supported with a grant from National Geographic and by sponsorships from Zoom audio recording devices and Kari Traa.
Rush is the recipient of numerous fellowships and grants including the Howard Foundation Fellowship awarded by Brown University, the Society for Environmental Journalism Grant, the Metcalf Institute Climate Change Adaptation Fellowship, and the Science in Society Award from the National Association of Science Writers. From 2015-2017 she served as the Andrew Mellon Postdoctoral Fellowship in the Humanities at Bates College (2015-2017). Today she teaches creative nonfiction courses at Brown University that carry the environmental sciences and digital technologies into the humanities classroom. Recently her students interviewed fishermen in the Narragansett Bay whose lives and livelihoods are being transformed by changes in the environment. Check out what they are up to here.
Rush has taught at the City University of New York and Southern New Hampshire University. She received her BA in English from Reed College and her MFA in Nonfiction from Southern New Hampshire University.
Videos
---