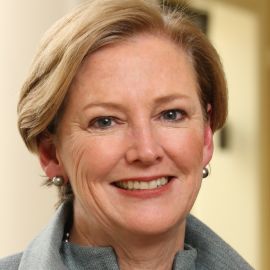 Kullman began her business career at General Electric and joined DuPont in 1988 as marketing manager in the company's medical imaging business. In her later role as executive vice president she was responsible for four of DuPont's business platforms as well as leading the company's growth in markets outside the USA.
DuPont's board of directors elected Kullman President and a director of the company with effect from October 1, 2008 and Chief Executive Officer with effect from January 1, 2009. She is the nineteenth executive, and the first woman, to lead the company in its 212-year history. Fortune magazine named Kullman fifteenth in its list of the world's fifty most powerful women for 2008, and fifth on the list for 2009 and 2010. In 2014 she was ranked as the 31st most powerful woman in the world, up from 42nd in 2013. The Wall Street Journal named her eighth on its 2008 list of "Women to Watch"
Kullman was a director of General Motors from 2004-2008 and was elected to the Board of Trustees of Tufts University in 2006.
On October 30, 2009, DuPont announced that its board of directors had elected Kullman as Chair of the company effective December 31, 2009.
She was a member of the Executive Committee of The Business Council for 2011-2013.
On June 6, 2013 the US-China Business Council announced that Kullman had been elected as its Chair.
Kullman's retirement was announced by DuPont on October 5, 2015 (effective October 16, 2015) following a battle with activist investor Nelson Peltz and Trian Fund Management, his investment firm. Peltz sought 4 board seats and argued that DuPont needed to cut costs and meet financial targets, but had lost a shareholder vote earlier in the year.
On December 21, 2016, Kullman joined the Board of Directors of The Goldman Sachs Group, Inc. as an independent director.
She is currently co-chair of Paradigm for parity, a coalition of 28 CEOs and founders who are coming together to push for gender equality at the top of major corporations by 2030.
Videos
---