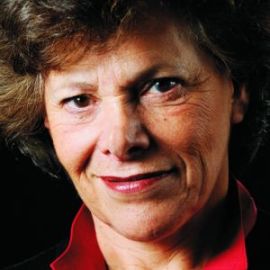 Ellen Langer
Mother of Mindfulness Theory; Social Psychologist; Authority on Leading and Living Boldly; Harvard University Professor
Dr. Langers work centers on the illusion of control, aging, decision-making, and mindfulness theory. Her books written for general and academic readers include Mindfulness, The Power of Mindful Learning, On Becoming An Artist: Reinventing Yourself Through Mindful Creativity, and Counterclockwise: Mindful Health and the Power of Possibility.
Her research has led to numerous academic honors including a Guggenheim Fellowship, the Award for Distinguished Contributions to Psychology in the Public Interest of the American Psychological Association, the Adult Development and Aging Distinguished Research Achievement Award from the American Psychological Association, and the Distinguished Contributions of Basic Science to Applied Psychology award from the American Association of Applied & Preventive Psychology.
The citation for the APA distinguished contributions award reads, in part, her pioneering work revealed the profound effects of increasing mindful behaviorand offers new hope to millions whose problems were previously seen as unalterable and inevitable. Ellen Langer has demonstrated repeatedly how our limits are of our own making.
Dr. Langer is a Fellow of The Sloan Foundation; The American Psychological Association, the American Psychological Society, The American Association for the Advancement of Science; Computers and Society; The Society for the Psychological Study of Social Issues; The Society of Experimental Social Psychologists. In addition to other honors, she has been a guest lecturer in the United States, Switzerland, Canada, Japan, Malaysia, Germany, and Argentina.
Speech Topics
---
The Call for Mindful Leadership
Virtually all of our problems – professional, interpersonal, personal and societal – stem from mindlessness. We simply are not thinking, blinding ourselves to new possibilities. But Dr. Ellen Langer has found turning this around to focus on and encourage mindfulness is far easier, and increasingly more important, than most believe. For business leaders, mindfulness isn't just about being tuned in and keeping pace; it's a strategy to improve personal and company-wide performance and productivity, to innovate and push boundaries. And in an era of mounting pressure and uncertainty, those capabilities are critical. Dr. Langer delves deep into the "power of possibility," and through her research and real-world examples, helps leaders understand how to "be mindful, notice new things, make it meaningful and… prosper."
Stop Aging, Start Living – Boldly. Mindful Health and the Power of Possibility
If we could turn back the clock psychologically, could we also turn it back physically? For nearly 40 years, Dr. Ellen Langer has studied this provocative question, and now she offers an answer: opening our minds to what's possible, instead of presuming impossibility, can lead to better health – at any age. Drawing on landmark work in the field and her own body of colorful and highly original experiments, Dr. Langer shows that the magic of rejuvenation and ongoing good health lies in being aware of the ways we mindlessly react to social and cultural cues. With only subtle shifts in our thinking, in our language, and in our expectations, she tells us, we can begin to change the ingrained behaviors that sap health, optimism and vitality from our lives. Improved vision, younger appearance, weight loss and increased longevity are just four of the powerful results.
Stop Balancing Work/Life. Integrate Instead.
The ubiquitousness of "Lean In" as well as headlines proclaiming that you can/cannot/who knows "Have It All" have turned our collective attention toward a subject that, despite endless discussion, still appears to have no answers. Work/life balance, says Dr. Ellen Langer, suggests the two are opposite and have nothing in common. But that's not true. They're both mostly about people. Instead of trying to balance the mythical scales, integrate work and life for greater happiness and control. Through her world renowned mindfulness theory, she explains how.
Related Speakers View all
---
Martin Seligman

Zellerbach Family Professor of Psychology & Director...

Montel Williams

Emmy Award-Winning Talk Show Host Best Known For "Th...

Charlie Alejandro

Motivational Speaker, Writer, Actress & Radio Talk S...

Dr. Mehmet Oz

Cardiothoracic Surgeon; Host of "The Dr. Oz Show;" C...

Dr. Janet Taylor

Self Care & Wellness Activist and Psychiatrist

Sallie Krawcheck

Founder & CEO of Ellevest, Leadership Expert, Author...

Randi Zuckerberg

CEO & Founder of Zuckerberg Media, Author

Marti MacGibbon

Humorous Inspirational Speaker, Certified Mental Hea...

Tony Robbins

Entrepreneur, Bestselling Author & Peak Performance ...

Brene Brown

Professor at the University of Houston; #1 New York ...

Dr. Darlene Mininni

Author, Behavioral Health Specialist and Consultant ...

Joan Borysenko, Ph.D.

Behavioral Scientist & Best-Selling Author

Dr. Laura Berman

Sex Educator, Therapist & Researcher

Amy Morin

Psychotherapist & Bestselling Author of "13 Things M...

Abigail Thomas

Author of "What Comes Next and How to Like it"

Wendy Chung

Clinical and Molecular Geneticist & Physician

Michelle Borkin

Michelle Borkin is a PhD candidate in applied physic...

Michelle Gielan

National CBS News Anchor Turned Positive Psychology ...

Kristina Saffran

Co-Founder & Chief Executive of Project HEAL; Eating...

Carol Tavris

Expert in Psychological Science, Skeptic of Neurosci...
More like Ellen