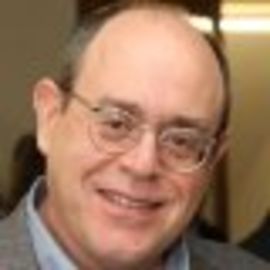 Elliot Jager
Israel-based Elliot Jager is a journalist with Newsmax and an NYU-trained political scientist.
Israel-based Elliot Jager is a journalist with NEWSMAX http://www.newsmax.com/ and former managing editor to Jewish Ideas Daily now Mosaic.
He is also a former senior staffer at the NY-based Tikvah Fund.
An 11-year veteran of the Jerusalem Post, Jager edited the newspaper's editorial and opinion pages.
His areas of interest include Israeli foreign policy, domestic political affairs, Israel-US relations and Israel-Diaspora relations.
He holds a Ph.D. in political science from New York University, an M.A. in international relations (NYU) and a B.A. in Judaic Studies from Brooklyn College. Jager was raised on New York's Lower East Side where he attended Yeshiva Chasen Sofer and Mesiftha Tiffereth.
He is a regular briefer to VIP's visiting Israel.
Videos
---
Speech Topics
---
Briefing on Israel Affairs and Foreign Policy
Middle Eastern and Foreign Affairs
American - Israel Relations
Understanding Israel - Separating the Forest from the Trees
Are Israelis Like American Jews Except Hebrew Speakers?
Related Speakers View all
---
Jason Mattera

Emmy-Nominated Journalist, Conservative Activist & A...

Dan Flynn

Author, Columnist, & Senior Editor of "The American ...

Sasha Issenberg

Political Columnist & Author

Matt Bai

Nationally Known Journalist, Author & Screenwriter; ...

Stephen Hayes

Author & Journalist, Former Editor-in-chief of "The ...

Howie Carr

Journalist, Author & Conservative Radio Talk-Show Host

Cal Thomas

Syndicated Columnist, Pundit, Author & Radio Comment...

Jon Stewart

Talk Show Host, Comedian & Producer

Ben Stein

Political Economist, Commentator, Author & Actor

Ben Shapiro

Conservative Political Commentator & Radio Talk Show...

Ron Reagan

Contributor, MSNBC and Journalist

Dan Rather

Iconic Journalist & Former News Anchor for the CBS E...

Norman Ornstein

Bestselling Author, Political Analyst & Resident Sch...

Oliver North

Combat-Decorated Marine, Best-Selling Author & Forme...

Michael Medved

Nationally Syndicated Radio Talk Show Host, Film Cri...

Frank Luntz

Political Pollster & Communication Expert

Rich Lowry

Editor in Chief of the National Review

Morton Kondracke

Political Commentator & Columnist

John Kasich

Former Governor of Ohio

Seymour Hersh

Pulitzer Prize-Winning Investigative Journalist, Rep...
More like Elliot