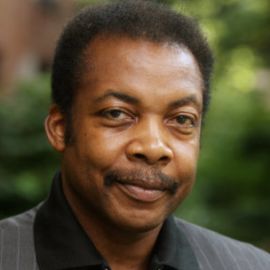 One of America's most renowned journalists and media commentators, Ellis Cose addresses the most pertinent issues of the day, from politics and race to conflict in societies, dedicated to spurring a national discussion on the fight for social equity.
The Chicago native began his career as a columnist for the Sun-Times - becoming, at the age of 19, the youngest editorial page columnist ever employed by a major Chicago daily - and ultimately ascended to top positions in some of the nation's leading publications, including The New York Daily News; Time magazine; USA Today; The Detroit Free Press; and most notably, Newsweek, where he served as columnist and contributing editor from 1993 to 2010.
The best-selling author of The Rage of a Privileged Class and Bone to Pick, Cose's latest is The End of Rage, a meditation on the decline of black anger as a new generation of educated, high-performing African Americans looks to climb the corporate ladder without hitting the glass ceiling that prevented their predecessors from assuming top CEO positions.
A popular campus lecturer and corporate speaker, Ellis Cose has the uncanny ability to tackle virtually any subject - only requesting a brief time to meditate on the topic beforehand. In his riveting keynotes, he is as apt to discuss raising children in the digital age as to examine cross-generational attitudes on diversity in the workplace, displaying fearless honesty and a heightened understanding of today's cultural and political climate.
Videos
---
Speech Topics
---
Anything Goes: Ellis Cose Addresses the Topic-du-Jour
Drawing on a long and illustrious career as an editorial board member for some of the nation's most prominent newspapers and magazines, Ellis Cose tackles any subject on politics, national policy, and society. He shares his views on such seminal issues as immigration, race, diversity, major American press institutions, and post-conflict societies from South Africa and East Timor to Ghana and the US. Just give him five or ten minutes to reflect, then sit back and watch one of America's most renowned journalists and media commentators deliberate on the most important issues of the day.
Diversity through Generations in Corporations
Weaving material from myriad interviews as well as two large and ambitious surveys - one of black Harvard MBAs and the other of graduates of A Better Chance, a program offering elite educational opportunities to thousands of young people of color since 1963 - Ellis Cose sheds light on the attitudinal changes he discovered among various generations of African Americans in the workplace. While older generations who sought to climb the corporate ladder before the likes of Dick Parsons became heads of major financial institutions quickly encountered a very real and thick glass ceiling, current Harvard MBAs have not only seen black men and women obtain top positions in business, but have witnessed an African American assume the presidency. Energized by these precedents, they believe there is a path for them to the top of corporate America.
In this riveting keynote, Ellis Cose examines what it means for corporations to create environments that recognize talent and provide opportunity across the board, and to what extent corporate leaders are stuck in a model of executive precedence that is reflective of history rather than the future.
America on the Fringe
In the heady aftermath of President Obama's election, conventional wisdom suggested that the bitter, angry, and destructive elements of discrimination were ebbing at last and America was becoming a post-racial nation. However, reality suggests otherwise. Socio-cultural divisions and prejudices continue to abound, whether they be rooted in color, gender, or sexuality.
A keen observer of America's marginalized populations, Ellis Cose combines the talents earned from a lifetime in journalism with the insights and thoughtfulness of a close observer of the American experience to offer a fresh and original appraisal of our nation today.
Parenting in the Digital Age
As a father, Ellis Cose was stunned by his nine-year-old daughter's technological literacy and newfound best friend: the Internet. When children turn to Google for answers, how can parents continue to act as educators and teach their children the values they received in a pre-digital world?
In this ever-relevant keynote, Ellis Cose examines how the Internet is changing the parent-child relationship when parents are no longer children's ultimate source of information. He shares the research he's conducted on the matter as well as its ethical and philosophical implications.
Related Speakers View all
---
Kevin Powell

Writer, Humanitarian, President of BK Nation

Juan Williams

New York Times Best-Selling Author, Fox News Politic...

Wes Moore

CEO of Robin Hood Foundation, Best-Selling Author & ...

Geoffrey Canada

Inner-City Youth & Education Advocate

Charles J. Ogletree

Legal Theorist / Mentor / Activist

Charlayne Hunter-Gault

Award-Winning Journalist

Donna Brazile

Veteran Political Strategist, Bestselling Author, Fo...

Montel Williams

Emmy Award-Winning Talk Show Host Best Known For "Th...

Tavis Smiley

Broadcaster, Author, Publisher, Advocate, and Philan...

Patricia J. Williams

Columnist & Law Professor

Archbishop Desmond Tutu

Nobel Laureate & Human Rights Activist

Van Jones

CEO of REFORM Alliance, CNN host, Emmy Award-winning...

Julianne Malveaux

Author, Economist, Founder & Thought Leader Economic...

Jesse Jackson

Civil Rights Activist & Politician

Hill Harper

Actor, Author & Philanthropist; Best Known For "CSI:...

Myrlie Evers-Williams

Civil Rights Activist

Majora Carter

Real Estate Developer, Peabody Award-Winning Broadca...

Sheryl WuDunn

Pulitzer Prize-Winning Journalist; Co-author of Half...

John Zogby

Trendspotter & Leading Pollster

Susan L. Taylor

Founder & CEO, National CARES Mentoring Movement & E...
More like Ellis