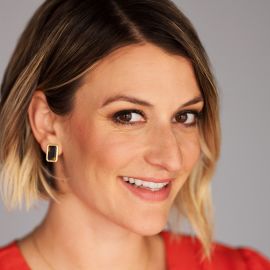 Emilie Aries is a speaker, podcast host, author, and the Founder & CEO of Bossed Up, an award-winning personal and professional development community where she helps women craft happy, healthy, and sustainable career paths.
Her new book, Bossed Up, serves as a practical roadmap for women who want to set themselves up for sustainable, long-term career success and step up as the boss of their lives.
Emilie started her career in political advocacy and organizing, and rose quickly into leadership ranks at a young age. But after years of nonstop work, she found herself burnt out and operating with a martyr mindset: a near compulsive drive to sacrifice herself for the sake of the cause. Ever since finding her way back from early career burnout, this self-proclaimed "recovering hot mess" devoted herself to pushing back on burnout work culture and helping others advocate for their own form of sustainable success.
Learn more in Emilie's TED talk, The Power of No, where she shares how to set healthy boundaries and invest in your sustainable, long-term career success. You can also boss up your earbuds with the twice-a-week Bossed Up Podcast, where Emilie and her expert guests break down listener career conundrums and offer up boss tips to help you beat burnout and craft a sustainable career path.
Speech Topics
---
Beat Burnout: Women & Sustainable Success
Effectively overcome the overwhelm. Emilie starts by demonstrating how burnout affects women differently than men and reviews the research behind the business case for sustainable success. Then Emilie focuses on implementing cognitive strategies for effective multiple, long-term goal pursuit, designed specifically to address the gendered pitfalls women often face.
Welcome & Introductions
Understand the problem: why and how burnout strikes Clearly define burnout's root causes and how they manifest differently among men vs. women, and marginalized groups. Review how racial battle fatigue, micro-aggressions, and stereotype threat can add to the stress of women of color especially.
Tool #1: Ditch the "martyrdom mindset" Introduce the principles behind sustainable success versus serving as the office "martyr," who is unfortunately often celebrated in our work culture.
Demonstrate how happier, healthier people are more productive and harder working.
Tool #2: Identify your burnout triggers Identify where the four root causes of burnout are present in your life.
Hone our mindful awareness and decide to react purposefully and proactively instead of reactively. Explore how mindfulness is the first step towards prevention.
Tool #3: Your calendar is your budget for life Your calendar is your best tool for remaining mindful of how you're choosing to spend your time. Use your calendar as a tool for running an energy audit and forecasting capacity.
Conclusion: We Can Redefine What Leadership Looks Like As your power grows, your power over yourself grows. Let's redefine the status quo.
Q&A
Own Your Voice: Assertive Communication
Explain the difference between assertive and aggressive behavior, and the many benefits of asserting yourself (strategically) at work. Review how managing this perception can be especially nuanced and challenging for women leaders. Hone best practices for assertive communication through verbal, visual, and vocal mediums as a way to better understand the messages we're sending.
Welcome & Introduction Assertiveness as Essential for Leadership Being assertive is essential for leadership. We know this! The data reveals the same conclusions: assertive communicators are more likely to be seen as leaders, are less anxious, and are more often promoted.
But the quality of assertiveness is complicated for women, who are often deemed less likeable for demonstrating this leadership characteristic. Research shows it's women who know when to "turn it on and off" that reap the most benefits.
Understanding Assertiveness in Practice Define assertive vs. aggressive
BREAKOUT: What would a boss do? Participants break into groups of 2-3 to draft responses to a variety of workplace scenarios requiring assertive responses. Groups report back and Emilie leads an always-lively discussion that reinforces the concepts introduced today.
Style vs. Substance Emilie breaks down the visual, vocal, and verbal components of communication with interactive and multimedia components.
Emphasizing the importance of mindful awareness as first step to behavior change, Emilie acknowledges that code-switching is essential for aligning our communication (substance and style) with our goals and audience.
Key Take-Aways, Q&A
Know Your Worth: Negotiate Like A Boss
Emilie leaves participants 100% prepared for their next salary negotiation or annual review. She reviews how to calculate your true market value using available data online and good old-fashioned networking. Emile then expands on identifying your strengths and communicating them using strategic framing that highlights your value. Participants practice crafting a killer counter-offer and presenting it with strategic framing. Emilie then reviews common pitfalls women often face and how to bounce back like a boss.
Welcome & Introduction
Know Your Worth
A step-by-step process for researching your market value, online and through anecdotal research gained through 1-on-1 conversations with practitioners.
Prepare Your Framing
How to identify your strengths and market differentiators. Getting comfortable talking about yourself in a positive, calm, and confident manner.
Review the verbal and nonverbal cues that can help you tie your strengths to the communal benefit of the organization's broader mission / vision / work.
BREAKOUT: Own Your Strengths & Package With Framing Individual reflection exercise leading into a partner breakout to practice framing.
Make the Ask
How to decide among the many facets of your offer that you can negotiate and prioritize your goals. Introduce the concept of single-focus, tiered asks.
Walk through sample scripts and word-for-word phrasing participants can use to calmly and confidently make the ask.
BREAKOUT: Make the Ask Practice using phrasing to pivot and make the hard ask with a partner. Group discussion / fishbowl-style dissection of one partner's examples.
Avoid Common Pitfalls
What to do if you get a negative response. How to recover a conversation that's gone off-course. Reminders on how to initiate negotiation and how to follow up after negotiation. Best practices on email vs. phone vs. in-person format.
Take-Aways, Q&A
Be a Boss: Cultivate a Leadership Identity
It's time to get bossed up - here's how. Emilie grounds attendees in their leadership purpose through envisioning their lives, careers, and/or businesses years into the future. She introduces the concept of constructing a leadership identity as an iterative process developed over time through strategic action-taking in the face of uncertainty. Emilie leaves participants feeling courageous, risk-tolerant, and willing to lead.
Related Speakers View all
---
Fran Hauser

Media Executive, Startup Investor & Best-Selling Aut...

Donna Orender

CEO of Generation W & Former WNBA Commissioner

Lolita Taub

Latina Tech Venture Capitalist; Co-Founder & General...

Alexandra Wilkis Wilson

Entrepreneur, Board Director, Investor, Advisor, Men...

Danielle Feinberg

Director of Photography at Pixar Animation Studios; ...

Amelia Rose Earhart

President of the Fly With Amelia Foundation; One of ...

Meredith Walker

Co-Founder & Executive Director of Amy Poehler's Sma...

Marilyn Tam

Best-Selling Author, Consultant, Board Certified Exe...

Jan Fields

Former President of McDonald's USA & Chairman of the...

Linda Alvarado

CEO of Alvarado Construction & National Women's Hall...

Cheryl Boone Isaacs

Film Marketing & Public Relations Executive, Former ...

Emily Calandrelli

Aerospace Engineer; Host & Producer of FOX's "Xplora...

Anne Beiler

Founder of Auntie Anne's Pretzels; Passionate About ...

Cynthia Germanotta

Co-Founder of the Born This Way Foundation with Daug...

Kristie Kennedy

Women's Worth & Wellness Expert, TEDx Audacious Lead...

Liz Nead

Executive Business & Life Coach

Shannon Miller

Olympic Gold Medalist, Health Advocate & Cancer Surv...

Nicole Yeary

Founder & CEO of Ms.Tech, A Company That Aims to Sup...

Olympia LePoint

Award-Winning Rocket Scientist, Self-Help Author & H...

Libby Gill

Leadership Expert, Executive Coach & Award-Winning A...
More like Emilie