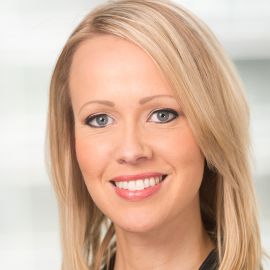 Emily Ekins is a research fellow at the Cato Institute. Her research focuses primarily on American politics, public opinion, political psychology, and social movements, with an emphasis in survey and quantitative methods. She studies how values, experiences, and self-interest shape public opinion and attitudes toward government. Emily's publications include "The Libertarian Roots of the Tea Party" and "Public Attitudes Toward Federalism: The Public's Preference for a Renewed Federalism." Before joining Cato, she spent four years as the Director of Polling for Reason Foundation where she conducted national public opinion polls, and published specialized research studies. In 2014, Emily authored an in-depth study of young Americans, "Millennials: The Politically Unclaimed Generation." Prior to joining Reason, Emily worked as a Research Associate at Harvard Business School, where she coauthored several Harvard Business Case Studies and helped design and conduct research experiments and surveys.
She has discussed her research on Fox News and Fox Business, and her research has appeared in the Washington Post, Politico, the Wall Street Journal, and the Washington Times. Emily is an active member of the American Association of Public Opinion Research (AAPOR) and the American Political Science Association (APSA).
She holds a Ph.D. and M.A. in Political Science at the University of California, Los Angeles. Her dissertation examined sources of support for the tea party movement and the moral values undergirding public demand for limited government.
Videos
---
Related Speakers View all
---
James Corden

English Actor, Comedian & Host of CBS's "The Late La...

Karima Bennoune

Professor of International Law, Author, "Your Fatwa ...

The Pines

Rising out of the prairies of the Midwest, The Pines...

MacKenzie Mauzy

MacKenzie Grace Mauzy (born October 14, 1988 in Gree...

Emily Ratajkowski

Actress and Model

Dawn Schiller

Trafficking Survivor & Domestic Violence Prevention ...

Joseph Covelle

Speaking From the Heart To Help Change Minds

Charlie Alejandro

Motivational Speaker, Writer, Actress & Radio Talk S...

Johnny Depp

Award-Winning Actor, Producer & Musician

Stanley Tucci

Actor, Writer, Film Producer, and Film Director

Alison Gopnik

Professor & World Leader in Children's Learning and ...

Zooey Deschanel

American Actress, Musician, and Singer-Songwriter; B...

Sara Schoen

Social Critic and Sustainability Champion

Ann Michael Henry

Organization and Productivity Improvement

Anna Kendrick

Award-Winning Actress, Singer & Author

Elizabeth Warren

U.S. Senator, Massachusetts

Dr. Holly G. Atkinson

Award-Winning Medical Journalist

Connie Schultz

Pulitzer-Winning Columnist

Nicholas Kristof

Pulitzer Prize-Winning New York Times Columnist & Po...

Rosalind Wiseman

Parenting & Bullying Expert; Author of "Queen Bees a...
More like Emily