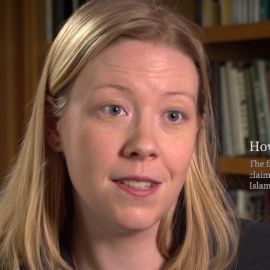 Emma Ashford is a visiting research fellow with expertise in international security and the politics of energy. She is an expert on the politics of petrostates, including Russia, Saudi Arabia, Venezuela and Iraq, and has written widely on Russian foreign policy and the politics of the Middle East. Her dissertation research focused on the ways in which oil production and export shape foreign policy and conflict.
Her current research examines the extent to which international sanctions imposed on Russia have been effective, and their impact on U.S. and European businesses. Ashford was formerly a Bankard Predoctoral Fellow at the University of Virginia, and has worked with the Russia-focused Center on Global Interests. Her work has been published by The International New York Times, The LA Times, Foreign Policy, The National Interest, U.S. News and World Report, Newsweek and Al Jazeera America, and she has been a frequent guest ontelevision and radio.
Ashford holds a PhD in foreign affairs from the University of Virginia, and an MA from American University's School of International Service.
Videos
---
Related Speakers View all
---
Nicholas Kristof

Pulitzer Prize-Winning New York Times Columnist & Po...

Mariane Pearl

Widow of Journalist Daniel Pearl

Robert Fisk

Middle East Correspondent for The Independent

Dr. Scilla Elworthy

Founder of the Oxford Research Group

Janine di Giovanni

Author, Award-Winning Foreign & War Correspondent; P...

Sadika Hameed

Fellow, Program on Crisis, Conflict, and Cooperation

Sharon Squassoni

Director and Senior Fellow, Proliferation Prevention...

Stephanie Sanok

Deputy Director and Senior Fellow, International Sec...

James Traub

Global Affairs & Politics Writer

Ingrid Newkirk

President, PETA

Julia Bolz

Women's Rights Activist

Farnaz Fassihi

Senior Writer, Former Deputy Bureau Chief, Wall Stre...

Marina Adshade

Author of "Dollars and Sex: How Economics Influences...

Nancy Pelosi

Speaker U.S. House of Representatives

Martha Raddatz

ABC News Chief Global Affairs Correspondent and co-a...

Alison Gopnik

Professor & World Leader in Children's Learning and ...

Maajid Nawaz

Counter-Extremism Activist

Rebecca MacKinnon

Director, Ranking Digital Rights, New America

Nicholas Burns

Professor of the Practice of Diplomacy & Internation...

Stephen Hayes

Author & Journalist, Former Editor-in-chief of "The ...
More like Emma