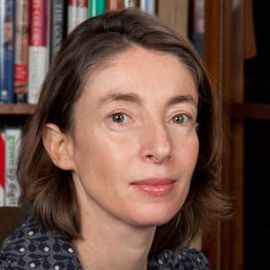 Emma Sky
British Expert on the Middle East, Former Political Advisor in Iraq, Current Director of Yale World Fellows
Emma Sky is Director of Yale World Fellows and a Senior Fellow at the Jackson Institute, where she teaches Middle East politics. She is the author of The Unraveling: High Hopes and Missed Opportunities in Iraq.
Emma served as advisor to the Commanding General of US Forces in Iraq from 2007-2010; as advisor to the Commander of NATO's International Security Assistance Force in Afghanistan in 2006; as advisor to the US Security Co-ordinator for the Middle East Peace Process in 2005; and as Governorate Co-ordinator of Kirkuk for the Coalition Provisional Authority, 2003-2004.
Prior to that, Emma worked in the Palestinian territories for a decade, managing projects to develop Palestinian institutions; and to promote co-existence between Israelis and Palestinians. In addition, Emma has provided technical assistance on poverty elimination, human rights, justice public administration reform, security sector reform, and conflict resolution in the Middle East, South Asia and Africa.
Emma has published numerous articles including in the New York Times, Foreign Affairs, Foreign Policy, Politico, Atlantic, Slate, Survival, Center for a New American Security, US Institute of Peace, the Guardian, and the Journal of the Royal United Services Institute for Defence and Security Studies.
Emma was educated at Oxford (UK), Alexandria (Egypt), Hebrew University of Jerusalem (Israel) and Liverpool (UK).
Emma is an Officer of the British Empire.
Videos
---
Related Speakers View all
---
Dr. Scilla Elworthy

Founder of the Oxford Research Group

Linda Hirshman

Supreme Court Lawyer, Renowned Expert on Social Chan...

Meghan McCain

Co-Host of "The View," Political Columnist, Author &...

Katty Kay

Lead Anchor for BBC World News & Best-Selling Author

Amanda Simpson

First Openly Transgender Person to be Appointed to a...

Stacy Pearsall

Photographer & Educator

Amy Klobuchar

Minnesota Senator & Former Democratic Candidate in 2...

Janine di Giovanni

Author, Award-Winning Foreign & War Correspondent; P...

Anne-Marie Slaughter

Foreign Policy Expert, Author & CEO, New America Fou...

Elizabeth Warren

U.S. Senator, Massachusetts

Mariane Pearl

Widow of Journalist Daniel Pearl

Rosario Marin

Former Treasurer of the United States

Laura Ingraham

Political Commentator, Television Host & Journalist

Minyon Moore

Principal of Dewey Square Group & Founder of Women B...

Yolanda Caraway

President & CEO of The Caraway Group

Andrea Rodgers

Founder of AskMissA.com, Philanthropist, Charity & L...

Kathy Caprino

Nationally Recognized Women's Career and Executive C...

Svetlana Kim

Speaker, Radio Talk Show Host, Author, Certified Hyp...

Elmira Bayrasli

Co-founder of Foreign Policy Interrupted

Kelly A. Galanis

The Red-Headed Diva is Kelly A. Galanis, Professiona...
More like Emma