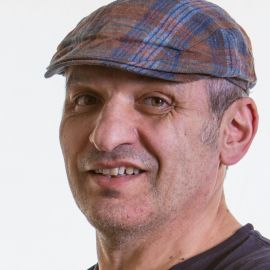 Ergin Özdemir
Diversity Advocate, Social Entrepreneur
Ergin Özdemir is a social entrepreneur, diversity advocate, and one of Sweden's foremost public speakers. His approach to increasing diversity literacy is two-pronged. By working with leaders, employers, and institutions, he increases their diversity IQ so they can build, preserve, and harness the power of diverse teams. At the same, Ergin helps individuals learn how to use their diversity to their advantage when entering the workforce.
For more than 20 years, Ergin has worked tirelessly towards creating dignified opportunities for people of diverse backgrounds to, not only become part of, but also fundamentally transform workplaces. So far he has initiated around 50 internships in Sweden, made it possible for a number of students in Turkey to pursue tertiary education through scholarships, and founded the Diversity Achievement of the year.
Through his presentations and workshops, Ergin uses countless real-life examples and the latest research to show that rather than a burden, diversity in all its senses, offers a competitive edge for every organisation. All that is required is that we widen our view of where our society's superpowers reside.
Speech Topics
---
Diversity as Competitive Advantage
Attracting and Harnessing Diversity
Related Speakers View all
---
Yai Vargas

Founder & CEO of The Latinista; Career Diversity & I...

C.M. Samala

Inclusive Innovator, Co-founder & Managing Director ...

Allyson Kapin

Founder of Women Who Tech; Founder of web agency Rad...

Jason Towns

Startup Investor & Award Winning Tech Diversity Advo...

Nicole Yeary

Founder & CEO of Ms.Tech

David Julius King, III

Head of Employee Experience, Diversity & Belonging a...

Greg Jenkins

Founder & CEO of Greg Jenkins Consultant; Diversity ...

Kimberley Doyle

Diversity, Equity, & Inclusion Expert, Keynote Speak...

Jeannine Carter

Chief Innovator & Advisor, Delivering Happiness; For...

Aiko Bethea

Founder of RARE Coaching & Consulting; Anti-Racism a...

Kim Crowder

Anti-Racism Educator, Expert in Diversity, Equity & ...

Israel Greene

Leadership Trainer, Emerging Leader Coach, Diversity...

Kiara Butler

CEO & Founder of Diversity Talks, Social Entrepreneu...

Tracey Grace

President & CEO of IBEX IT Business Experts, Diversi...

Willie Jackson

Consultant & Lead Facilitator at ReadySet

Annie Jean-Baptiste

Author, Founder of the Equity Army & Head of Product...

Crystal Martin

Software Developer & Consultant at Slalom; Advocate ...

Lesley Slaton Brown

Chief Diversity Officer at HP, Inc.

Leslie Short

President & CEO of The Cavu Group; Advises Companies...

Deanna Singh

Social Entrepreneur, Keynote Speaker, Change Agent &...
More like Ergin