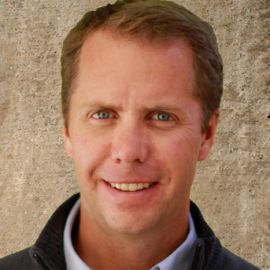 Eric Alexander, skier, climber, and mountaineer is achieving his goals while playing an instrumental role in helping others to achieve their own. On May 25th 2001 Eric defied the odds and scaled Mt. Everest guiding his blind- friend Erik Weihenmayer to its lofty 29,035′ summit. In 2002 the pair traveled to Russia and climbed Mt. Elbrus at 18,500 ft, and again found success on Mt. Kosciusko, Australia –– two more of the seven summits (the highest points on each of the seven continents) notably the pair skied from the top of each of these latter two – making this the first-ever blind ski descents. Eric shares this inspirational story with audiences all over the country and when he is not traveling he teaches disabled skiers in Vail, Colorado and directs Adventures Beyond Limits, an organization that educates and encourages youth with disabilities in the outdoors.
Eric grew up in the Colorado Rockies and started climbing in his teens. He was a member of the University of Denver ski team, which led him to pursue work as a Ski Patrolman in Vail and in the French Alps, as well as instructing at Beaver Creek Resort. Eric has successfully climbed the highest point on six of the seven continents and led expeditions throughout Europe, North America, South America, the Himalaya and other mountainous regions of the globe.
Climbing has not always been without its trials. Eric reminds us of our humanity and demonstrates the courage it takes to succeed in climbing to the "top of the world". Surviving a 150′ fall in the Himalayas on Mt. Amadablam in 2000 was just the beginning. Eric developed pulmonary edema and it became clear that he would need to be airlifted to safety. For eight months he struggled with pneumonia and was unable to train for Everest. Gaining inspiration from his team and his faith, Eric dared to dream once again and fought back to play an instrumental role in this historic ascent Today, Eric continues to climb and look for new challenges both personally and in the outdoors while challenging people to overcome the "Everests" in their own lives redefining the limits of what we can achieve.
Speech Topics
---
Trust
Eric knows that to succeed as a team each individual on that team must be a person who is trustworthy and must also demonstrate the ability to trust those around them. Eric speaks of the extraordinary trust that the 2001 NFB Everest expedition shared and how it contributed, along with God's help to the success of safely reaching Mt. Everest's 29,035' summit.
Courage
Dare to risk it all when the "experts" say the risk is too great. Eric speaks of moving forward in spite of our fears, stepping out in faith and courage to prove, as he says, "that we are the experts on ourselves." Demonstrating this courage Eric joined the Everest expedition after a nearly fatal accident climbing in the Himalayas the year before and showed his commitment to the team by not giving up. Eric shares that the task of climbing Everest in and of itself would require great courage, but to add that Eric would be guiding his blind friend to the summit would require far more.
Innovation
It is innovation which leads to invention. This takes our small steps of progress and transforms them into giant leaps over time, turning what was once thought of as impossible to being totally plausible. The mountain had not changed nor did the route get easier. What had changed was our approach. It is on the way to the top, it is along the journey that we learn, grow, innovate, and adapt. Innovation, like wisdom, is just as those steps up the mountain; each one building on the one before it, the summation of which gets us to our goal.
Books
---
News
---
Eric Alexander
Eric Alexander met Erik Weihenmayer (Erik W.) when Eric's ... On May 25, 2001, Eric and a team of 19 climbers made history when they climbed Mt. Everest, the ...
Related Speakers View all
---
Conrad Anker

Mountaineer & Captain of The North Face Climbing Tea...

Neal Petersen

History-Making Extreme Adventurer, Award-Winning Aut...

Bonita Norris

Adventurer & Author of "The Girl Who Climbed Everest"

Jordan Romero

Author & Youngest Person to Climb Mount Everest

Vince Poscente

Former Olympic Speed Skier, Leadership & Sales Exper...

Bear Grylls

Adventurer, Author & Host of "Man Vs. Wild"

Susan Ershler

Business Executive, International Speaker, Author & ...

Kevin Cherilla

Founder of K2 Adventure Travel, Mountaineer, Motivat...

Colin O'Brady

Professional Endurance Athlete

Alan Hobson

Author, Mt. Everest Climber & Cancer Survivor

David Breashears

Everest Adventurer, Filmmaker & Senior Lecturer at M...

Adrian Ballinger

Founder & Head Guide of Alpenglow Expeditions; Alpin...

Paul Deegan

Motivational and Leadership Expert, Everest Mountain...

Mark Victor Hansen

Founder & Author of Chicken Soup for the Soul Book S...

Robyn Benincasa

World Champion Adventure Racer & Best-Selling Author

Stacy Allison

Businesswoman, Adventurer, Author & Motivational Spe...

Mark Pollock

Explorer, Innovator, & Collaboration Catalyst

Alastair Humphreys

Adventurer, Microadventurer, Blogger, Motivational S...

Jeff Salz

Explorer, Anthropologist, TV Personality & Author

Rick Ridgeway

Environmentalist, Mountaineer, Expedition Author, VP...
More like Eric