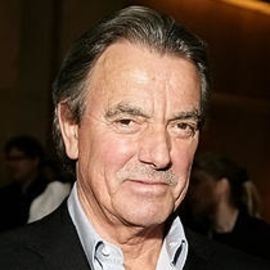 Eric Braeden is a veteran Hollywood actor know for his role as "Victor Newman" on The Young and the Restless, and has starred with such luminaries as Marlon Brando, Bette Davis, Leonardo DiCaprio, Geraldine Page, Burt Reynolds, Dennis Hopper, James Earl Jones, Curt Jurgens, Raquel Welch, Tyne Daly, James Arness, Mary Tyler Moore, Dennis Weaver and Jack Lord, among others.
Braeden got his start as "Capt. Hans Dietrich" on the World War II series The Rat Patrol from 1966-68 opposite Christopher George, where he added depth and dimension to a stereotypically-written German Afrika Korps officer. Soon after, Braeden landed the starring role in Universal's Colossus: The Forbin Project, with Susan Clark, making him the first German actor to play an American in a major Hollywood film.
In January 1980, Braeden took the role of Victor Newman on CBS's The Young and the Restless. 2019 marks his 39th anniversary with the show. ​ Braeden has appeared in over 120 television series and feature films, including the role of John Jacob Astor in James Cameron's epic Academy Award winner, Titanic. ​ Braeden's other credits include starring in 100 Rifles, Morituri, Escape From the Planet Of The Apes, Operation Eichmann, The Ultimate Chase, The Ultimate Thrill, Herbie Goes To Monte Carlo, Meet The Deedles, Dayton's Devils and many others.
Braeden's numerous primetime series credits include guest-starring on the CBS series How I Met Your Mother as the father of actress Cobie Smulders, as well as the telefilms Jackie Collins' Lucky Chances, The Judge And Jake Wyler starring Bette Davis, How The West Was Won starring James Arness, and Perry Mason: The Case Of The Wicked Wives.
In addition, he has guest-starred on such shows as Gunsmoke, The Mary Tyler Moore Show, Combat!, Diagnosis Murder, The Nanny, Mission Impossible, McCloud, The Night Stalker, The Man From U.N.C.L.E., Vegas, The Six Million Dollar Man, Hawaii 5-0, Perry Mason, Mannix, Murder She Wrote, Matt Helm, The Gallant Men and many others.
In 1972-73 he won the U.S. National Soccer Championship for the Los Angeles Maccabees and, in 1989, Braeden was chosen as the only actor on the newly formed German American Advisory Board. The illustrious group has included Dr. Henry Kissinger, Katherine Graham, Alexander Haig and Paul Volcker.
In 1995, Braeden received the highest honor in Italian Television from Prime Minister Berlusconi and in 1998 was honored at the 38th Annual Monte Carlo TV Festival.
In 1998, he received The People's Choice Award as Favorite Actor in a Daytime Drama Series and that same year was the recipient of The Emmy Award as Outstanding Actor In A Daytime Drama Series.
In 2004, Braeden joined Prime Minister Ariel Sharon at the Annual Tourism Conference in Israel and the following year he joined Ariel Sharon, Elie Wiesel and the Prime Ministers of Poland and Hungary at Auschwitz for "The March Of The Living" along with 20,000 Christian and Jew where the former director of The Anti-Defamation League, Abe Foxman asked Braeden to light a commemorative flame.
Braeden has twice received the Federal Medal Of Honor by the President of Germany for his contributions to German-American Relations.
In May 2007, he was honored with a Lifetime Achievement Award from the nationally renowned organization The Pacific Pioneer Broadcasters Association in Los Angeles, and was also the recipient of The 2007 Ellis Island Federal Medal Of Honor. ​ In September 2008, Braeden was honored by the City Of Hamburg for his humanitarian contributions.
On June 2017, Braeden was inducted into The German American Hall Of Fame in NY. Previous inductees have included Dwight D. Eisenhower, Amelia Earhart, Levi Strauss, Albert Einstein, George Steinbrenner, Walter Cronkite among others. Braeden also published his first book, a memoir, in 2017 entitled I'll Be Dammed: How My Young and Restless Life Led Me to America's #1 Daytime Drama.
During his free time, Braeden is an avid sportsman and plays in celebrity tennis tournaments around the world, while continuing to play soccer. He also does Olympic weight lifting and boxing to stay in shape.
Videos
---
Related Speakers View all
---
Mario Lopez

Actor & Entertainment Journalist

Simon Lovell

English Comedy Magician, Card Shark Actor and Con Man

Dee Snider

Daniel "Dee" Snider is an American singer-songwriter...

Justin Hartley

Actor, Best-Known for "This Is Us"

Wilson Bethel

Actor, appeared in "The Young and the Restless" and ...

Clark Gregg

Actor Known For "The New Adventures of Old Christine...

Joe Manganiello

Actor; Known for his Roles in "True Blood" and "Magi...

Cary Elwes

Actor; Known for "The Princess Bride"

Evan Handler

Actor, Author, Screenwriter & Journalist; Best Known...

Ty Burrell

Actor and Activist; Plays Phil Dunphy on ABC's hit s...

Alison Sweeney

Actress & TV Personality Known for "Days of Our Live...

Jason Priestley

Canadian-American Actor & Director Best Known for "B...

Henry Winkler

Actor, Producer, Director & Best-Selling Author; Bes...

Howard Stern

Radio & Television Personality, Producer, Author & A...

Gary Sinise

Actor & Advocate for America's Servicemen and Women;...

Jason Segel

Writer & Actor Known for His Role in "How I Met Your...

Lisa Rinna

Author, Actress & Television Personality

Tyler Perry

Actor, Writer, Producer, Comedian & Director; CEO of...

Tim Meadows

Actor & Comedian; Known for "Saturday Night Live"

Jerry Mathers

Actor; Best Known for "Leave It to Beaver"
More like Eric