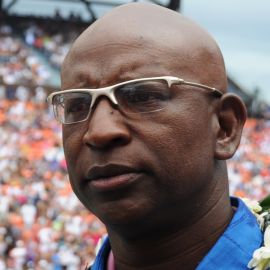 Eric Dickerson is a former football running back who played in the National Football League (NFL) for eleven seasons.
Dickerson played college football for the SMU Mustangs of Southern Methodist University and was recognized as an All-American. He was selected in the first round of the 1983 NFL Draft and played professionally for the Los Angeles Rams, Indianapolis Colts, Los Angeles Raiders, and Atlanta Falcons of the NFL.
During his NFL career, he rushed for over 13,000 yards. He holds the NFL's single-season rushing record with 2,105 yards, set in 1984. Dickerson was inducted into the Pro Football Hall of Fame in 1999.
Currently, Dickerson is the VP of Business Development L.A. Rams. He is the founder of a sports memorabilia company called Original Mini Jerseys with former Los Angeles Rams teammate LeRoy Irvin. The company received their NFL license in 2006 and sells authentic miniature replica jerseys. He also owns an internet-based sporting goods company, E Champs. Dickerson is also a NFL analyst for Fox Sports' FS1.
Videos
---