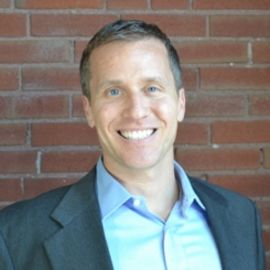 Eric Greitens
Missouri Governor; Former Navy SEAL and Founder of The Mission Continues; Best-Selling Author of "Strength and Compassion and The Heart and the Fist"
Eric Greitens is a former Navy SEAL, the founder of The Mission Continues, and an award-winning and best-selling author. Exclusively represented by Leading Authorities speakers bureau, Greitens draws from his experience as a humanitarian and Navy SEAL lieutenant commander to address leadership, team building, overcoming adversity, and the power of service. Using humor and personal anecdotes from his travels, he engages his audience in highly visual, dynamic, and inspiring presentations and challenges them to make small changes and improvements in their lives.
Greitens is a noted humanitarian, documentary photographer, and researcher who has worked across the globe. His doctoral thesis, Children First, investigated how organizations can best serve war-affected children and inspired his award-winning book of photographs and essays, Strength and Compassion, which was recognized as ForeWord magazine's "Photography Book of the Year," and was the winner of the 2009 New York Book Festival. Greitens' latest book, The New York Times best-selling The Heart and the Fist: The Education of a Humanitarian, the Making of a Navy SEAL, provides insights into service and leadership during challenging times, with Greitens drawing from his experience as a SEAL, humanitarian, and volunteer at The Mission Continues. He has also written The Warrior's Heart, a young adult adaptation of the book.
Greitens is a Navy SEAL officer who deployed four times, to Iraq, Afghanistan, Africa, and Southeast Asia. He served as the commander of a Joint Special Operations Task Unit, commander of a Mark V Special Operations Craft Detachment, and as commander of an al Qaeda Targeting Cell. While in Iraq, Greitens and his comrades were hit by a suicide truck bomb. He escaped with minor injuries, but some of his comrades were much harder hit. His personal military awards include the Purple Heart and the Bronze Star, among myriad others. In 2011, the Association of the United States Navy named Greitens their Navy Reserve Officer of the Year.
After returning from Iraq, Greitens founded The Mission Continues, which empowers wounded veterans to serve and lead in communities across America. For his work, he received the President's Volunteer Service Award, and the Draper Richards Foundation selected Greitens as a fellow, recognizing him as an innovative leader. The following year the Manhattan Institute for Social Entrepreneurship honored Greitens as one of the five leading social entrepreneurs. He was also honored by Major League Baseball, PEOPLE magazine, Outside Magazine, and the National Conference on Citizenship. In 2011, The Social Venture Network recognized The Mission Continues as one of the most impactful forces in the community. His work has also been covered by nearly every national media outlet, and in 2013 he was named one of TIME magazine's "100 Most Influential People."
Greitens was appointed as a White House fellow, the most prestigious fellowship for leadership and public service and continues to study and teach public service as a senior fellow at the Truman School of Public Affairs at the University of Missouri and at the Olin School of Business at Washington University. Greitens is also a golden gloves boxer and sub-3 hour marathon runner.
Videos
---
Speech Topics
---
Building Resilience: Brave Leaders & Better Teams
Every great venture encounters hardship, every great life encounters pain, and every great team suffers together. In the face of hardship, some teams collapse, while others come together. In the face of pain, some individuals quit, while others persevere. In the face of suffering, some causes are abandoned, while other leaders create cohesion. No leader can, and no good leader should, avoid challenges. No good team can, and no good team should, avoid hardship. The virtue of resilience is the ability to adapt to challenges, hardship and pain in such that we become wiser and stronger. How do you build such a team? How do you become such a leader?
In this inspiring speech, Eric Greitens explains how we can turn pain and suffering into wisdom and strength, and through that hardship, transform ourselves and our teams into leaders and top performers. Based on his current research, Eric breaks down the key traits and characteristics that allow individuals and teams not just to survive, but to flourish and realize their full potential. By drawing on his unique experiences and stories, he provides vivid examples of others who have lived through harrowing circumstances to become wiser and more effective. This thought-provoking speech also provides practical methods and training for applying the principles of resilience to everyday life and work.
Inspired Leadership through Challenging Times
Eric Greitens is a celebrated author and expert on how to lead organizations through hardship and challenge. As a Navy SEAL, Eric led teams through the hardest military training in the world and deployed to Afghanistan and Iraq, where he was the commander of an al Qaeda targeting cell. As an international humanitarian volunteer, he created hope in some of the worlds most difficult situations of poverty and war, and worked with refugees of the Rwandan genocide and survivors of landmines in Cambodia. Now, as the leader of one of America's most innovative nonprofits, he inspires wounded veterans around the country to begin to serve again in their communities here at home.
Through all his experiences, he has seen that the most successful leaders do more than endure challenging times; they embrace them. With high energy, good humor, and vivid stories, Eric will inspire your people to embrace challenge, create hope, and thrive in in challenging times. Combined with his interactive audio and visual presentation, audiences will carry those lessons with them to become wiser and stronger leaders.
Why it Takes the The Heart & the Fist
In his New York Time bestselling memoir, "The Heart & the Fist," Eric Greitens shares the fundamental philosophy of his life's work: to be effective in solving the world's problems or even just to live a meaningful life, one must live with both courage and compassion. In this speech, he shows audiences how they can apply that lesson to their own frontlines to create purpose in their lives.
Through his masterful storytelling, he takes readers on an adventure around the world, introducing them to the many teachers who have influenced him: the nuns of Mother Teresa's home for the destitute and dying, his boxing coach in inner-city Durham, his Navy SEAL instructors, and refugees from Bosnia and Rwanda. Along the way, he includes lessons on humility, vision, courage, hope, and friendship. With striking images from his travels abroad, engaging stories, and a fresh look at today's challenges, Eric inspires his audience to become stronger, more compassionate, more courageous individuals.
Related Speakers View all
---
Story Musgrave, M.D.

Retired NASA Astronaut; Physician & Professor at Art...

Dan Ariely

Behavioral Economist; Professor at Duke University; ...

Gerald Chertavian

Founder & CEO, Year Up

Father Thomas Williams

Theology Professor, Renowned Priest & Author

Gary Montgomery

Coaches individuals and companies to live life with ...

Shawn Achor

Harvard Professor, Researcher & Positive Psychology ...

Professor Richard Dawkins

English Ethologist, Evolutionary Biologist, Charles ...

Jason Dorsey

The Gen Y Guy & Chief Strategy Officer at The Center...

Joe Torre

Chief Baseball Officer for Major League Baseball; Na...

Dr. Michio Kaku

World-Renowned Futurist & Theoretical Physicist

Dana Gioia

Poet; Former Chairman, National Endowment of the Arts

Daniel Burrus

Technology Futurist, Business Strategist & Hall of F...

Jon Bergmann

Pioneer of the Flipped Class Movement & Bestselling ...

Michael Hyatt

Intentional Leadership Expert, Best Selling Author &...

Dr. Robert Cialdini

CEO & President of Influence at Work; Author of the ...

Thomas Pogge

Philosopher Thomas Pogge wants to ensure medications...

Tom Thelen

Founder of the Victimproof Bullying Prevention Progr...

Dr. Anthony Fauci

Director, National Institute of Allergy and Infectio...

Sammy Tippit

International Evangelist and Author of 13 Books

Bill Renje

Author, Speaker, and Paralympic Gold Medal Athlete
More like Eric