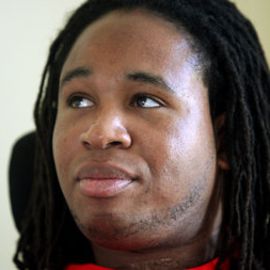 Eric LeGrand
Former Rutgers football player Eric LeGrand who was paralyzed in a 2010 game, now sees his arduous and inspirational road back as a blessing
Many who survive a traumatic injury have no recollection of their accident. Not so with Eric LeGrand, the former Rutgers football player who was left paralyzed from the neck down after a tackle in a game against Army on October 16, 2010. In his inspiring biography, Believe: The Victorious Story of Eric LeGrand (Harper Collins), LeGrand shares his memories of that fateful moment, as well as his experience realizing his dream as a Scarlet Knight and the challenges of his post-accident existence.
LeGrand's life changed when he hit Army ball carrier Malcolm Brown late in the fourth quarter. "I was set to throw my shoulder into his midsection," LeGrand writes,"...but Brown had been spun a bit. Instead of hitting him in the chest with my shoulder—where I was aiming—my helmet rammed into the back of his left shoulder, striking his collarbone."
Taking audiences through the rollercoaster of rehabilitation, LeGrand describes the inner strength required to keep moving forward and his determination to walk again. Rutgers fans will recall LeGrand leading the team out of the tunnel on October 29, 2011, which was also named the Sports Illustrated "Best Moment of 2011", but they might not know that a freak snowstorm almost cancelled his appearance. It is risky for LeGrand to be exposed to extreme cold (his body can no longer regulate temperature), and using a wheelchair in snow presents its own dangers. But LeGrand persevered: "With all the adversity I've been through, how can I not go ahead?...I knew I could handle a little snow."
Since the injury, LeGrand continues to work towards his goal of walking again. He now sits up on his own and regularly uses an arm bike as part of his rehab. In addition, he completed his degree in labor studies from Rutgers and also co-hosted a midweek radio show with first-year Rutgers head coach Kyle Flood during the 2012 season. He will continue to do television work as he transitions to broadcasting.
The Tampa Bay Buccaneers, now coached by LeGrand's former head coach at Rutgers, Greg Schiano, signed him to an honorary contract in May of 2012, fulfilling his lifelong dream of 'making it' to the NFL.
Related Speakers View all
---
Heath Calhoun

Alpine Skier & Veteran of the United States Army

John Register

Paralympic Silver Medalist, Desert Storm Veteran & C...

Magic Johnson

Basketball Hall of Famer, Entrepreneur, Philanthropi...

Vince Poscente

Former Olympic Speed Skier, Leadership & Sales Exper...

Vince Papale

Former NFL Player & Inspiration for the Movie "Invin...

Bob Love

Chicago Bulls Basketball Legend & 3-Time NBA All-Star

Jason Lezak

Olympic Gold Medalist Swimmer; Tri-Captained 2008 Be...

Cullen Jones

Olympic Gold Medalist & World Record-Holding Swimmer

Ruben Gonzalez

Incredible Olympic Story; Best-Selling Author; Award...

Jim Abbott

Former One-Handed Major League Baseball Pitcher

Matt Stutzman

Known as "The Armless Archer"; Current World Record ...

Kevin Everett

in 2007 Buffalo Bills tight end Kevin Everett slumpe...

JP Pawliw-Fry

Co-Founder of the Institute for Health and Human Pot...

Ray Zahab

Ultra-marathon Runner and Adventurer; Host, "The Pro...

Mike Schlappi

Paralympic Medalist

Kevin Pearce

Former Professional Snowboarder & Advocate; Founder ...

Don Yaeger

Award-Winning Leadership Coach & Best-Selling Author

Rudy Ruettiger

Motivational Speaker & Former Football Player; Inspi...

Anthony Robles

2011 NCAA Wrestling Champion and Author of "Unstoppa...

Coach Ken Carter

Coach, Author, Educator & Inspiration for the Film "...
More like Eric