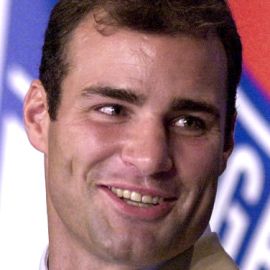 Eric Lindros
As a teenaged power forward playing minor hockey, Lindros became nationally famous both for his scoring feats and his ability to physically dominate players up to six years older than him.
As a teenaged power forward playing minor hockey, Lindros became nationally famous both for his scoring feats and his ability to physically dominate players up to six years older than him. Lindros played for the Oshawa Generals of the Ontario Hockey League for parts of three seasons from 1990 to 1992. During that time, he scored 97 goals and had 119 assists in 95 games played. He attended St. Michael's College School in Toronto with his brother and fellow hockey player, Brett Lindros. Lindros' play made him the most highly valued amateur player in North America and he was often nicknamed "The Next One", a reference to Wayne Gretzky's moniker "The Great One."
A controversy arose when Lindros refused to go to the Sault Ste. Marie Greyhounds after they drafted him. Lindros had already stated his intention not to join the Greyhounds, but Greyhounds owner Phil Esposito had drafted him anyway, enabling Esposito to sell his share in the team at a higher price. Lindros was traded to the Oshawa Generals instead, and when they played the Greyhounds, some Greyhound players wore black armbands in protest of Lindros' antics.
Lindros' entry to the National Hockey League proceeded in much the same manner. Lindros was selected first overall by the Quebec Nordiques in the 1991 NHL Entry Draft. Lindros had signaled in advance that he would never play for the Nordiques, going so far as to refuse to wear the team's jersey on draft day; the team selected him knowing that they could command a high price in trade. In 1992, the Nordiques worked out trades for him with both the New York Rangers, and Philadelphia Flyers. Eventually, an arbitrator by the name of Larry Bertuzzi uncle of NHLer Todd Bertuzzi ruled his rights belonged to the Flyers, for whom he played from 1992 to 2000, most of the time as the team's captain.
Many consider this trade a key reason that the Colorado Avalanche, which the Nordiques became in 1995, went on to be an NHL powerhouse. They received in the trade Peter Forsberg, Ron Hextall, Chris Simon, Mike Ricci, Kerry Huffman, Steve Duchesne, a 1st round selection (Jocelyn Thibault) in 1993, a 1st round selection (later traded to the Toronto Maple Leafs, later traded to the Washington Capitals - Nolan Baumgartner) in 1994, and $15,000,000 cash. Since the trade, the Avalanche have won eight division titles and two Stanley Cup championships, due in large part to the play of Forsberg and Patrick Roy, whom the Avalanche received in a package deal that included Thibault.
Related Speakers View all
---
Bobby Clarke

Hall of Fame Hockey player, best remembered for his ...

Chris Pronger

Chris Pronger was drafted second overall in the 1993...

Mark Messier

Canadian Former Professional Ice Hockey Player & For...

Mario Lemieux

Canadian Former Ice Hockey Player; Owner and Chairma...

Brett Hull

Hockey Hall of Famer and Two-Time Stanley Cup Champion

Wayne Gretzky

Legendary Hockey Player & Founder of the Wayne Gretz...

Steve Jeffery

President & CEO, Nomi

Ron Hextall

He is the grandson of Hall-of-Famer Bryan Hextall, t...

Joe Sakic

On December 21, 2005, Sakic was named captain of Tea...

Patrick Roy

Patrick Roy was born on October 5, 1965 in Quebec Ci...

Keith Carney

Former NHL defensiveman who played for the Chicago B...

Jason Chimera

Left Wing for the Washington Capitals of the NHL

Viren Rasquinha

CEO of Olympic Gold Quest; Former Captain of the Ind...

Marty Turco

Former Professional Ice Hockey Goaltender

Phil Bourque

Former Ice Hockey Player for the Pittsburgh Penguins...

Ken Wregget

Ken Wregget is a former Pittsburgh Penguins goalie, ...

Kari Kehtonen

Athlete, Professional Ice Hockey Goaltender

Kevin Dineen

Former NHL player and current coach of the Florida P...

Larry Robinson

Larry Robinson was only the 20th player selected ove...

Al MacInnis

Retired Canadian Ice Hockey Defenseman; Famous for h...
More like Eric