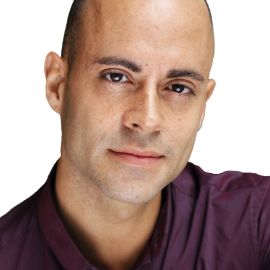 A retired firefighter turned meditation teacher, Eric Rios is the founder of Inner Stillness Project (ISP), a company dedicated to increasing individuals potential and personal power. A practicer of Inner Stillness since 1999, Eric constantly explores new ways of growing. His growth and experience led him to create the "7-Minute Shift", a 4-step cutting edge technique for deep and lasting results in tapping into Inner Stillness anytime and anywhere. Further advancing his personal reserch, Eric delved into Tapping, Affirmation and mindfulness exercises to name a few. Through assisted stretching, breathing techniques and meditation, you can pierce and dissolve deep tension in your body, causing it to feel a deep calm. It is in this state where the body truly heals and regenerates.
Eric is now a teacher and a mentor passing on his extensive knowledge to assist others in finding their own Inner Stillness and learn how to use it to achieve personal goals or master just about any skills they choose.
Not only can you feel deep calm in just one session but you will also be able to feel a version of this state during waking hours. That has been the goal of I.S.P. since its first formulation. Understanding these techniques, understanding their goal and practicing on a daily basis will guarantee you optimum performance in any activity and sport event.
The purpose of I.S.P. is to balance the mind and body so you can have better control over your own stress levels and take better control of daily situations. It was designed to be practiced twenty minutes before any activity that might cause nervousness or anxiety, whether it would be a deliberation, board meeting, sport activity, public speaking, singing, acting or something such as day trading.
When Eric isn't with his friends, writing or teaching, he can be found dancing to rhumba and guanaco music in the crowd at a central park concert or on his yoga mat in some twisted position, all the while exuding radiant Bliss and Stillness.
Videos
---
Related Speakers View all
---
Martin Ström

Corporate Mindfulness Expert, Keynote Speaker & Author

Tara Brach

Author & Mindfulness Teacher

Alia Crum

Principal Investigator for Stanford's Mind and Body ...

Kristen Johnson Brogan

Registered Dietitian, Author, Superfood Chef, Yoga I...

Eduardo Briceño

Growth Mindset and Improvement Expert; Co-Founder & ...

Dr. Darlene Mininni

Author, Behavioral Health Specialist and Consultant ...

David Gelles

Author of "Mindful Work" & Reporter for the New York...

Jon Kabat-Zinn

Mindfulness Teacher & Founder of the Stress Reductio...

Andy Puddicombe

Co-Founder of Headspace

Ghylian Bell

Founder, Urban Yoga Foundation & Urban Yoga Tea

Pandit Dasa

Mindful Leadership Expert, Motivational Speaker & Au...

Kate O'Neill

Founder & "Chief Tech Humanist" of KO Insights

Dan Harris

ABC News Correspondent, Anchor of "Nightline" & Co-A...

George Pitagorsky

An inspirational seasoned business professional blen...

Michael J. Breus

Clinical Psychologist; Sleep Expert & Author of "Bea...

Scott David Goyette

Scott Goyette has inspired thousands to live happier...

Richie Crowley

Wellness Activist, Mental Health Advocate, Entrepren...

Teena Jain

Teena Jain is the founder of Depression-Guide.com an...

Anthony Colannino

International Center for Leadership in Education Sen...

Susan Piver

Mindfulness Expert, Thought Leader, Entrepreneur, an...
More like Eric